My review schedule ground to a halt with Fateforge Adventurers because the 400-page review is a tense collection of well thought out 5e rules, exciting twists and a promising setting.
This is 5e's Dungeons & Dragons Advanced. Except that the world of Fateforge feels nothing like the Forgotten Realms. I could not work out how to unpick it and present back any form of helpful evaluation.
Here's the short form: this is a very impressive, detailed fantasy RPG with a far more sombre setting than D&D.
The dentistry of the 400 pages is one challenge for a reviewer and the fact that this is just a fraction of the basic Fateforge books is another. You can get Fateforge – Player's Guide for free (66 pages) and Fateforge – Spellcaster's Guide for free (62 pages) already. These two are the quickstarts or teasers. Along with with Adventurers, the core book, still to come is the 320 paged Fateforge Spellbook: Grimoire and a Bestiary.
The idea in Fateforge is that the characters have been chosen by Fate. They are unique, but not so unusual that there aren't other Fateforged or that they don't have to fear death.
Melancholia and Eternity are the world's two moons. The Fateforge may, or may not, be a thing. That's up to the GM (known as Rules Leader here). In Eana there's a corruption known as the Canker that is bubbling up from underground. It's a real thing. The Canker is responsible for many of the world's monsters and problems. There's the sense it is only going to get worse.
The backbone of Fateforge is D&D. You have D&D rules, classes and races but with twists.
The game introduces a new class called "The Scholar" to represent the inventors, healers and negotiators of the world. These are the people who know the lore and epic tales of the world of Eana.
The fantasy species in Eana are familiar but different. Some just have setting appropriate names, some look different – Dragonborn look more like alligators to me – and with others, the changes are more significant.
How different Fateforge is from your D&D is up to you. It's a modular system, and some of the rules are optional. These are handled well in the game, not just mechanically but also in presentation. They're themed so you can pick and choose to weigh up or down certain factors.
The themes are;
Action (rules that offer up epic fantasy stuff)
Awakening (the PCs have to have Awakened before using magic)
Dark (horror, madness and corruption)
Gritty (deadly)
Intrigue (extra plotting, chatting and roleplaying)
Mystery (supernatural and investigation)
Elusive Magic (in which magic must be learned, it does not automatically arrive)
My summary to you is that Fateforge is darker and magic more important.
The publisher, you see, is Studio Agate. This is a Parisian publisher who previously brought us Shadows of Esteren. Shadows of Esteren is the most awarded French roleplaying game, the English language translation near perfect and a classic example of dark fantasy.
Fateforge: Epic Tales in the World of Eana is not as dark as fantasy. It's more D&D than it is Shadows.
I like D&D's rules, but the game is too basic for me
I don't necessarily agree with the sentiment of the header above, but I've heard it a lot. If it describes your current relationship with the 5th edition, then Fateforge feels like a good match for you.
An excellent example of where Fateforge does more than D&D is culture and society. Fateforge tries very hard to create something new. Contrast that to the Forgotten Realms which kinda jigsaws established high fantasy concepts together – albeit fantasy concepts developed by D&D over the years.
In the chapter on languages we're reminded there is no 'Common' there's just what is common to the region the PCs are from. Then there are about a dozen standard languages, and we get to see examples of the various alphabets! All of a sudden, having a Scholar with the group becomes more attractive. Right? Then there's a section on exotic languages and notes on how to make them sound right, secret languages (like Thieves Cant) and optional rules on how rare reading and writing might be.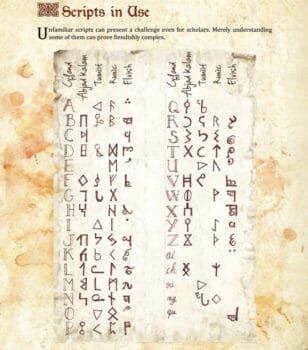 Fateforge is a three-part book and part two is all about daily life. Here you'll find rules on trade and how many resources it takes to do things like survive and maintain a lifestyle. It also has rules on how many resources you might earn as a talented bard in a vibrant and peaceful area compared to a small, dangerous and impoverished region.
An example of Fateforge making the world 'harder' than D&D are the rules for getting in and out of armour. If you go with Realistic Armour use, they suggest it takes 10 minutes to don medium armour and 5 minutes to doff it. Points to Agate for using the correct terms. If you use Heroic Rules for Armour, then medium armour only takes 5 minutes to don and 1 minute to doff.
There are 50 new spells, 43 new feats and a whole new spin on magic. In Eana there are parts of the world where magic is stronger or weaker and so 'geomagic' becomes a thing.
Layout and art
You don't need to take my word for it. Check out the free products: Fateforge – Player's Guide and Fateforge – Spellcaster's Guide to see that Studio Agate go heavy with the fantastic illustrations.
The layout is busier than D&D and more atmospheric, pages are more weathered, borders are more dominant. As you can tell there is a lot squeezed into Fateforge. Studio Agate can't be too generous with the whitespace, or the page count would far exceed 400!
That said, sometimes the decorative borders are pretty chunky and eat into the page. It adds to the look, and I don't suppose Studio Agate would use that design when space was a problem. What's more, puzzling is the inconsistency with the borders. It might be one of those things you don't notice until someone points it out – sorry – but its rare Fateforge Adventurers maintains the same border decoration for more than a few pages in a row.
This review is based off a PDF version of Adventurers. It's a well-presented PDF, I'm reading in the Kindle app, and I've bookmarked to all the chapters and sub-headings. I do have Shadows of Esteren hardbacks, though, and they're good quality. There's every reason to believe Fateforge will be the same.
Overall?
The very reasons that make Fateforge hard to unpack and layout in a review are the same reasons that the game may attract you. Or put you off. This is very much a D&D game, but it's D&D with the gloves off, extra rules, extra attention the world, additional consideration to balance and building games in layers.
Fateforge should do well. Will it do well enough to smash into the American markets? That's less certain, but the game certainly could do that. I think the virtual tabletops would do well to woo Studio Agate and their illustrator skills.
My copy of Fateforge: Adventurers was provided for review.
What do you think? Let us know in the comments below!