Bandai is releasing an expandable Godzilla Card Game. It's due in stores in September and consists of four pre-designed 50-card decks, 16-card sideboard, 24 double-sized cards, 4 turn cards, 4 play mats and manual. It's good for 2 to 4 players aged 6 and up and can be finished in about 30 minutes.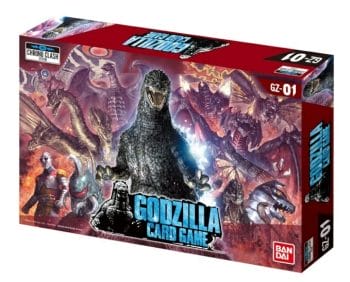 The game will feature many favourite kaiju including Jet-Jaguar, Rodan, Mothra, Mechagodzilla and the fierce King Ghidorah as well as Godzilla himself.
Godzilla will use Bandai's new Chrono Clash system. This system, designed by Ryan Miller, does away with turn-about-turn plays. Instead, there's a shared power track on which players move a token back and forth depending on the power of the cards they play. It's the token that determines who goes next. In other words, more powerful cards mean you'll probably take fewer turns.
Ryan Miller worked on Magic: the Gathering and was the lead designer in Duel Masters and Kaijudo. That's a designer who knows their trade.
The suggested retail price for Godzilla Card Game is US49.99, and in October there will be Bandai organised events in stores to lure you in. Retailers will get one free Tournament Pack for every four Godzilla games ordered.
Godzilla isn't the only Chrono Clash game Bandai has coming up this year as the Naruto Bortuo card game is expected to use the new system as well.
Let us know what you think in the comment section below.