Folding neoprene dice trays are all the rage right, and it is easy to see why. Firstly, the neoprene takes print well, so these dice trays are often decorated with patterns or kickass scenes from your favourite RPG. Secondly, these trays fold flat, so you can pop them into the bag and take them gaming with you. A tray that catches your dice, stopping them bouncing across the table and onto the floor is ideal. It's one of those purchases that, once you make it, you find it hard to imagine life without one.
Here's an example: a neoprene folding dice tray for Free League Publishing's excellent Mutant Year Zero. You can tell it is an original and authentic one because it has folded corners and snaps on the corner.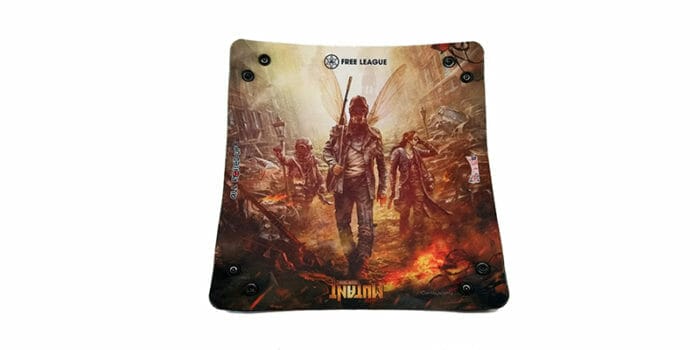 This dice tray comes from All Rolled Up.
If you have a folding neoprene dice tray in this design and it hasn't come from All Rolled Up, then it's an imitation.
The British company has the Design Rights in the UK and Europe.
Design Rights are legal protection that applies to the visual stylings of objects that are not purely utilitarian. In other words, you can't secure the design rights of a knife. That's too broad. However, if you design a cool neoprene knife, that folds up cleverly and stays in place due to the snaps on the corner, you can secure the Design Rights. You can protect your invention.
It is worrying, therefore, to see gamers with neoprene dice trays that haven't come from All Rolled Up. Gamers tend to value the authentic. You don't typically encounter wargamers who brag that they completed their Warhammer 40K army thanks to cheap knockoff miniatures made on the other side of the world. Nor do you meet roleplayers proud of badly photocopied rules, with dodgy bindings, bragging that they saved a few bucks buying the knockoff edition on ebay.
Precision matters, though, and All Rolled Up's Design Rights applies only to carefully defined parametres. Is your folded up dice tray in leather? Then it doesn't matter who the maker is as the protection only applies to neoprene trays. Does it fasten without snaps? Then the same exceptions apply; it's different enough.
The UK Games Expo Test
UK Games Expo, the largest gaming convention in the UK and it is in the top three in the world, is on this weekend. The halls of the NEC and many of the large conference rooms in the neighbouring Hilton are full of gamers. There are dice trays everywhere.
All Rolled Up are present in Hall 1, at booth 1-266, and they have an extensive collection of their exclusive folding neoprene dice trays.
Only a few gamers I spoke to knew anything about Design Rights, but all of them would prefer to have an original and authentic design.
Oddly, most of the same gamers I spoke to had strong opinions on dice. Understandably there was a concern that cheap dice would roll badly. Even beyond dodgy rolls, many of the gamers had prefered manufacturers and retailers for the dice, trusting the customer service and proven legacy of these companies. So if the hobby can develop a preference for established and original dice manufacturers then perhaps the same can extend to the growing accessories market and dice trays as well.
Let us know what you think in the discussion area below.