Something strange is happening on British shores.
Unsung Stories' last Kickstarter raised support from over a thousand backers. Needless to say, they're giving the crowdfunding platform another go. They hit their humble £2,500 goal in less than 12 hours and so we're straight into stretch goal territory. You can watch the progress or pledge from the campaign page.
A pledge of £5 is enough to get This Dreaming Isle as an ebook and hit £10 for the paperback.
The video pitch hints at Brexit worries but the only explicit mention I can see of it on the Kickstarter campaign is in the "Risks and challenges" section where it comes first. Unsung Stories note;
Probably Brexit. It's always Brexit, right?
The main Brexit chat came from the early press releases for the collection.
The UK is torn, awaiting the outcome of the Brexit negotiations that will define who we are, who our children are. We dream of these islands, and what they will become.
Unsung Stories have gathered writers from across genre and literary fiction for a new anthology of short stories. Whilst we all struggle to understand what it means to live on the British Isles, the land prevails, and preserves secrets and memories older than our ability to remember them. By drawing together leading voices of horror and fantasy, our stories reveal the weird spaces between us.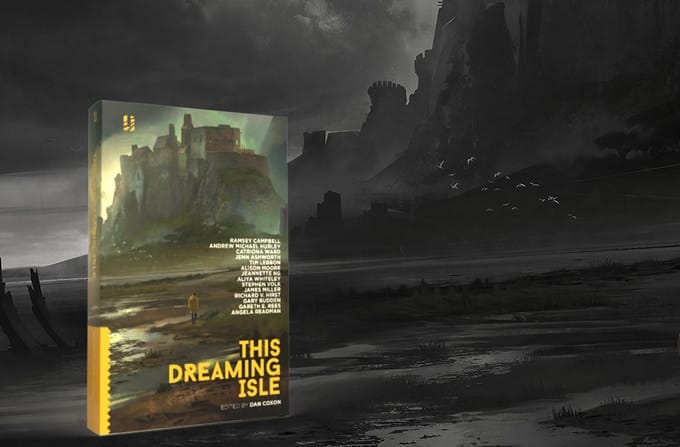 Which authors are contributing to This Dreaming Isle?
Ramsey Campbell, multi-award winning author of over 40 novels
Andrew Michael Hurley, author of The Loney and Devil's Day

Catriona Ward, author of Rawblood and Little Eve
Jenn Ashworth, author of Fell, Cold Light and more

Gareth E. Rees, author of Marshland and The Stone Tide
Tim Lebbon, screenwriter and author of over 35 books including Dusk, The Silence and Relics

Aliya Whiteley, author of The Beauty, The Arrival of Missives and The Loosening Skin
Stephen Volk, screenwriter and author of Whistable, Monsters in the Heart and more

James Miller, author of UnAmerican Activities, Lost Boys and Sunshine State

Jeannette Ng, author of Under the Pendulum Sun
Richard V. Hirst, co-author of The Night Visitors
Alison Moore, author of The Lighthouse, Missing and more
Gary Budden, author of Hollow Shores
Angela Readman, author of Don't Try This at Home and The Book of Tides