Welcome to the latest issue of Irregular Reconnaissance. This adhoc column at Geek Native is a chance to catch up on and swap mini-reviews on anime hits and misses you've watched recently.
Have any recommendations for readers? Use the comments box below the article to share your own tip-offs.
The Asterisk War
Episodes 12
Despite having the whole series on tap I managed to wait a whole week between watching the second last and last episode. I enjoyed the series but could have left a munch longer gap between The Asterisk War episode 11 and episode 12 without having to worry about forgetting the plot. Our heroes are battling for their school house's honour, and theirs, and there's a whole lot of politics going on behind the scenes.
This final episodes picks up by showing the human side of the rivals in the arena. Turns out the vampire sisters aren't so inhuman after all. Do we think they might be back as characters later? Yes, if there's a second series of The Asterisk War anyway. There had better be. This episode is really the final fight plus lots of foreshadowing at all the cool stuff that's been going on while we've been watching teens brawl.
Episode 12 doesn't so much as develop the plot as leave us with an "this is what you could have had" vision. Hopefully it's an attempt to keep interest high and pitch for for funding for a second series. I'd watch it.
Status: Recommended
Where: Crunchyroll
Monster Musume Everyday Life with Monster Girls
Episodes 8 to 12
Okay, there's a little effort to add some plot. Really, though, Monster Musume is to add a new monster every episode and explore a kink while they're at it.
Our happless human is stuck being "foster" for a whole host of fantasy humanoid women; from oozes, to centaurs, to harpries and even a giant spider-bodied woman who enjoys tying people up. The plot comes in the from of the MON Squad, a new set of monster women, who are part of a police force designed to help ensure the peace between the monsters and mankind. MON means we can get a bit of drama over and above battle for the top spot in the harem. Does it work? Barely.
I'll admit, though, there is always some fun in seeing what sort of madcap drama the writers come up with next. This anime remains firmly for beer weekends when you need to switch your brain off.
Status: Tiny plot attempts, big boobs
Where: Crunchyroll | Amazon UK | Amazon US
Fate/stay night: Unlimited Blade Works
Episodes 1 – 4
This is a beautiful anime. The cityscapes are impressive. The plot is looking to be very juicy too.
We start with a school girl, who seems to be living alone in a huge house but keeping it together, who concludes a summoning ritual in her basement. She doesn't quite get the powerful servant she wanted but you're left to wonder whether Archer, the mysterious man who appears instead, will be the servant she needs. There's a war brewing among the mages and while Rin Tosaka may prefer to stay out of it, she can't and now Archer (his class, not his name) has been summoned, she'll have to take part. It's a bit like scrambling for chess pieces. If you hold off you might end up with a bad one but if you grab quickly then you're telling everyone you're up for the fight.
In just a few episodes I'm already wondering who the hero is. Is it Rin? Or are we just seeing the world through her eyes. Is it Shiro, who Rin saves, a newcomer to this world but part of it anyway. Or are the actual heroes the summoned servants? Archer or Saber? What we know is that this is supposed to be a fight to the death and there's already more than one "goodie" in the battle… are we heading for a tradegy?
Status: Strongly recommended
Where: Netflix UK | Amazon UK | Amazon US
ERASED
Episodes 1 – 4
I imagine this concept has been tried before without being so successful. Our hero is a bit of a failure; he wants to draw manga but can't land a job there so is stuck being a pizza delivery guy. He has a weird power, though, now and then he flashes back in time a minute or so and has the chance to make a difference. Sometimes he does so and there's generally a reaction to messing with the timeline; sometimes he gets hurt.
In ERASED the action really gets going when a key character gets murdered and we jump back, not hours or minutes, but years in time. There's a chance to save a young girl who was kidnapped and murdered. The catch? Many! The police are after the wrong guy, we've no idea who the killer is and our useless hero is stuck as a child too.
ERASED is surprisingly good. It's told well; and powerfully. It puts Quantum Leap to shame with its ability to deal with timelines and struggling to use future knowledge to try and change the past.
Status: Strongly Recommended
Where: Crunchyroll
Gate
Episodes 1 – 5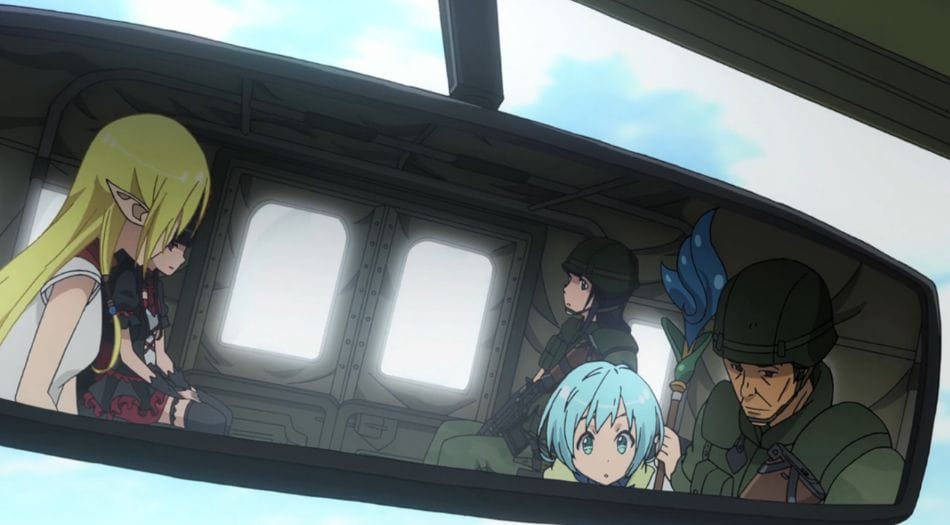 The premesis of Gate is dead simple but effective. Imagine a magical Gate opening up in busy Tokyo and a fantasy arming rushing through. There would be chaos at first, police would struggle but then the modern army would arrive and turn the tide. That's how Gate begins.
The next few episodes are hit and miss. The Japanese decide to send a force back through the Gate and secure the other side. Our geeky hero goes with them. At this point Gate looses some steam as the familiar and expected fantasy scenes line up. An elf. A dragon. Machine guns are greater than charging knights. However, after a few more episodes the drama picks up again the political consequences on both sides of the Gate begin to stir and has previously predictable characters start to encounter more challenging situations.
I'm hopefully that the improvement momentum will carry on and Gate will turn out to be more than a "One Good Idea Wonder".
Status: Recommended
Where: Crunchyroll
Naruto Shippuden
Episodes 442 – 451
Episodes and episodes of filler. Stuck in a "dreamworld" right before the final battle our characters are hanging in there long enough to create a whole series of Naruto Shippuden in which very little happens. I'll keep watching because I enjoyed the bulk of the series and I want to see how it pans out but I just can't invest in the dreamworld arch at all.
Sensing, perhaps, they were stretching tolerance very fine there's a few minutes of actual, real world, chat and some plot reveal at the start of episode 451. Then? Then flashback. There's dreamworld quickshots and then flashback. I'm not eager for the series to end. I'm eager for it restart.
Status: Filler!
Where: Crunchyroll | Amazon UK | Amazon US
Titles mentioned in Irregular Reconnaissance are available on Netflix UK, Crunchyroll or UK retail. Some titles have been made available as freebies for review and may become available a shortly after this summary goes live.