We've already had a whole bunch of free to download superhero comics and superhero RPG material but what if that's too much effort? What if you don't want to download anything this Superhero Week?
If that's the case then this list of free to enjoy webcomics might do the trick!
Grrl Power

A comic about super heroines. Well there are guys too but mostly it's about the girls.
Doing the things that super powered girls do. Fighting crime, saving the world, dating, shopping, etc. There'll be explosions, cheesecake, beefcake, heroes and villains, angels and demons, cyborgs, probably ninjas.
Evil Inc
Evil Inc. is about a corporation run by and for super-villains. Join the CEO (Chief Evil Officer) Evil Atom, a Silver-Age-villain-turned-businessman; Lightning Lady, a recovering supervillainess; Dr. Haynus, a brain-in-a-jar symbiotically joined to a puppy dog; and the rest of the employees who give a new meaning to "punching in" for the day.
Star Power

In the far future, a young astronomer on a distant space station is chosen to wield the Star Power. Now, as the last of the Star Powered Sentinels, she must protect and explore a galaxy far more dangerous and wondrous than she could have ever imagined.
Gunnerkrigg Court

The adventures of Antimony Carver, a girl who attends a strange school called Gunnerkrigg Court, and becomes entangled in collection of intrigue between the Court and those who dwell in Gillitie Wood.
Mega Maiden and the Chop Chop Princess

Isis Cook and Delaney Bell are two rambunctious girls that meet by chance on the internets. upon discovering they both have super powers they decide to team-up and try their hand at fighting crime under the names Mega Maiden and The Chop Chop Princess.
The comic follows the girls as they get a crash course in superhero social etiquette and class from all their so-called peers in the post human community, unfortunately for the girls every big-name superhero is a complete and utter douchebag.
[Read Mega Maiden and the Chop Chop Princess]
Magellan

Force Magellan was founded by the superheroes of the International Justice Force who once fought with the hero Magellan. Magellan sacrificed himself to save Earth from the Q'Arth demon attack of 1972.
This comic sometimes contains adult themes.
The Pride of Life

A superhero comedy (of errors) following the adventures of a skinny, nerdy extrovert boy as he becomes a brawny, nerdy extrovert. The extrovert in question is Kedamono a hybrid Vulfpacht/Minotaur.
Johnny Saturn

Welcome to the world of Johnny Saturn, a street-level avenger at the end of a long, brutal career.
This is a world of high-flying, trendy superheroes who live like celebrities, and a shadowy, back-alley world where mystery men, those old-school vigilantes who rely on their fists and indomitable wills, wage lonely wars on crime. "Johnny Saturn" is a heady blend of horror, conspiracy theory, superheroes, classical mythology, and the paranormal.
Pulse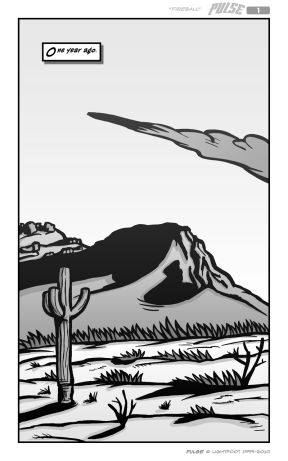 Human batteries Annie "Pulse" Chang and Tabitha "Bolt" Greene become armored superheroines. Each using their natural charge to power flying armored suits. They must start at the bottom, dealing with dangerous rivals, and complicated missions. The comic is set in the fictional island city of Port Braddon, Michigan.
This superhero-themed post is from 2013's Superhero Week. Made any good superhero discoveries online recently? Share them in the comments below or teleport to a new superhero article and keep reading.