Last week we had the first Cyberpunk 2077 trailer. This is the computer roleplaying game behind created by CD Projekt RED in conjunction with Cyberpunk 2077 creator Mike Pondsmith.
Here's a reminder of the teaser
The 3D CG imagery studio Platige Image, based in Poland along with CD Projekt RED, have shared a huge number of images from behind the scenes of this trailer. It involves real models, 3D systems, concept art and ideas.
Credits
Director / Story: Tomek Baginski
CG Supervisor / Animation Director: Maciej Jackiewicz
Executive Producers: Marcin Kobylecki, Jaroslaw Sawko, Piotr Sikora
Producer: Marta Staniszewska
Concept Artists: Damian Bajowski, Jakub Jablonski, Maciej Kuciara, Maciej Rebisz
Additional Concept Artists: Jakub Bogaczynski, Adam Tredowski, Rafal Wojtunik
Cyberpunk 2077 Concept
The concepting was very different for this video. Normally Platige Image have more of a blank page to work from but in this case CD Projekt RED had already started and the vision was very much to be loyal to the Pondsmith vision. They settled on picking a picture from the original game manual that seems to be a freeze-frame.
Cyberpunk Art
While the teaser trailer was behind worked on the developer was still fleshing out the game, the concept, the style and feel. As a result ideas introduced into the movie influenced game design while the evolving game design influenced the trailer.
Characters
Environment
Cyberpunk 3D scanning
Real people are used to make the Cyberpunk trailer. The rig is impressive; 72×18 megapixel cameras, 1.27 gigapixels of colour captured in a 360 degree circle and a complex behind a single shot. The providers are Infinite Realities.
Platige Image wanted to avoid the treatment some computer games give to beautiful women but also wanted to get an emotional reaction from the video. In fact, they said the video would only work if they managed to achieve it.
Cyberpunk 3D hair
Hair is often a challenge in 3D modelling. Platige Image took photographs as a reference and then rebuilt the actress' hair from scratch.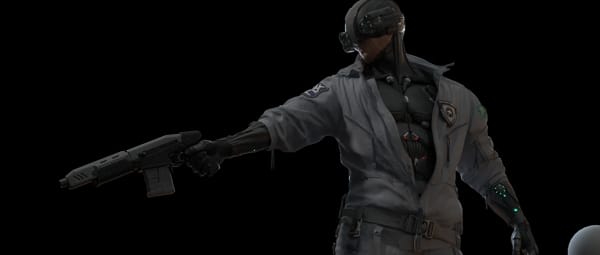 Cyberpunk 2077 UI
The team took the decision to stick with a traditional news channel approach to presenting the scene. They could have made it far more complex, with extra information or even multiple screens but wanted to frame the visuals in the familiar.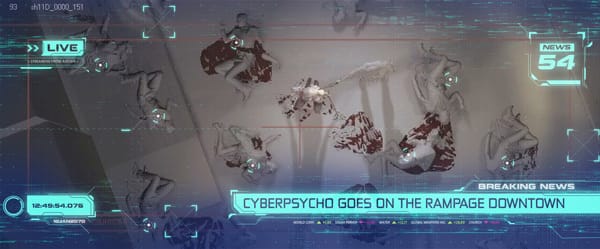 Cyberpunk 2077 Final