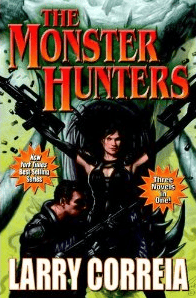 Hero Games have partenered with Larry Correia, author of the Monster Hunters series of urban fantasy novels, to produce a new roleplaying game.
Set in the "Monster Hunter International" setting the RPG is currently using the name The Monster Hunter International Employee's Handbook And Roleplaying Game or MHIEHRPG for short.
MHIEHRPG will be a full-colour, 300-page, hardback. It will be written by Steve Long and include a full version of the HERO System so fans do not need to invest in any other RPG trappings.
Larry Correia said;
"I've played roleplaying games for many years, and I'm thrilled to be able to bring the world of MHI into the roleplaying game arena,"

"I think the HERO System offers the perfect level of flexibility and detail for MHI adventures."
As you should now expect, a Kickstarter campaign will launch to help the project come to life. Jason Walkters, General Manager of Hero, said;
"We think Kickstarter is the perfect way to bring this book to life."

"It gives the fans a chance to learn more about the book, show their support, and earn some great rewards in the process. We're still deciding on some of the rewards, but we know the highest support tiers will include the chance to appear as a character in a future MHI novel."
Have you read any of the Monster Hunter books? Do you think it'll translate well in to an RPG? Share your thoughts in the comment box below.