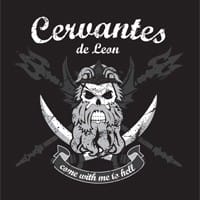 Essex based Insert Coin are a geek fashion company to watch. They're going from strength to strength and it's true clever, game based, designs as well as some savvy deals.
Today Namco Bandai announced that InsertCoin Clothing have won the rights to produce an exclusive SoulCalibur V design. Pirate King Cervantes De Leon will get his own t-shirt.
Jon Rhodes of Insert Coin, said;
"The design itself is inspired by one of the most enduring characters of the entire series and drawing its style from the metal tees of the '70s and '80s, 'Cervantes de Leon' is all about the pirate king who just won't die! His crazy taunts were always a pleasure and, well, you've gotta love a pirate haven't you? This exclusive high contrast design, complete with 'come with me to hell' motif, is on a deliciously black tee"
As a Christmas gift, this blogger bought Insert Coin's Monteriggioni hoodie, inspired by Assassin's Creed, for his girlfriend. It was a hard present to buy since it was so popular it was frequently out of stock. It's out of stock, again, at the time of posting for this blog.