As far as I know the sequel to King is simply called King 2. It rather feels it needs a witty sub-title that somehow manages to evoke feelings of Elvis, zombies and Mexican wrestling.
King 2 gets off to a good start. Early on, as we read about Blacklist Studio there's the standard disclaimer that says any resemblance to actual persons is coincidental. That's an important legal disclaimer. As it happens I don't mind telling you who the main character in King reminds me of – it's Elvis. Well, Elvis if he was a bad ass wrestler.
As the graphic novel starts we catch up with King at the rusty bucket telling the story of his encounter with unpleasant nasties and the Spear of Destiny over a drink.
I get the feeling King rarely gets to enjoy a drink in peace. Sure enough, he's rudely interrupted by a zombie.
Okay, at this point greater questions about the King and his world drift into my head. Are zombie attacks common? I like to imagine there's a world of tall cities, glass, taxis and iPads that continues unaware of the zombie-Lovecraft mashup that haunts mankind. However, down in the dregs of the New Mexican desert the locals are far more familiar with having to battle the undead.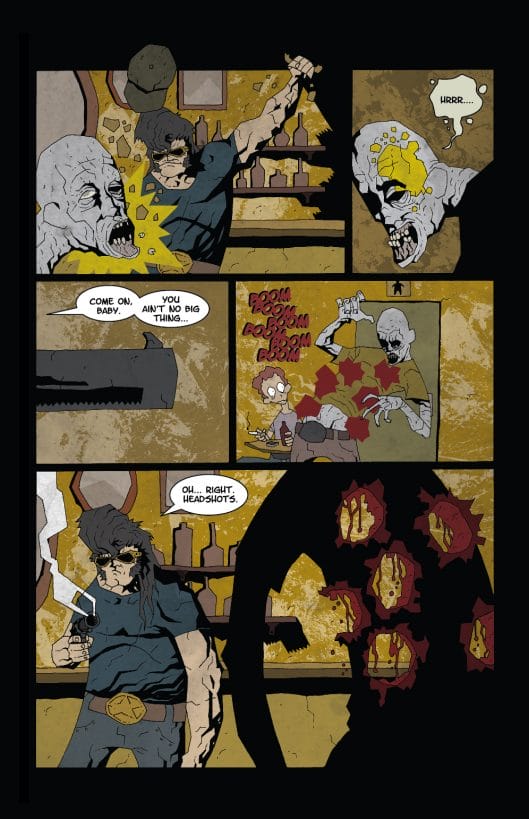 Life is tough in King's world. So far, as a reader, it's great. Lots of fun.
King gets roped into helping out a village. It's all great so far; we've had an intro, we've had some zombie bashing and now King's off to investigate what looks like a coordinated zombie attack.
The zombie bashing continues. I am a fan of Bradford's art and Hall's ability to pull together a succinct but engaging story. That's why I think King 2 is either an evil teaser or might have originally been longer.
After a spot more zombie bashing we're left with a cliff hanger. It's not just that I can't wait until King 3. It's that I feel as the flow of the story cuts off less than gracefully.
There's a catch though. I'm undecided as to whether this was deliberate or not. You see; a cliff-hanger with a non-committal shrug will be consistent with the story.
Hopefully there's not such a long wait for King 3. I guess we'll find out more then. King 2 will become available on the 27th of December.
Disclaimer: My copy of King 2 was provided for the purposes of review.
Take part in the community by leaving a thoughtful comment below.