On April 27, IDW Publishing, publisher of comic book titles such as Locke & Key, Wynonna Earp, and 30 Days of Night as well as licensed properties such as the Dungeons & Dragons comics, cut more than a third of its staff and management.
The publicly traded company eliminated 39% of its employees including publisher Nachie Marsham, CFO Brooke Feinstein, and CEO Allan Grafman. Going further, they're delisting their stock from NYSE by May 18 in order to move it to the OTCQB platform at a later date. This downsizing represents a departure from their previous path and, with a new CEO, means a new direction for the company, which may impact their line of Dungeons & Dragons comics. 
Deadline, Comics Beat, ICv2, and Bleeding Cool shared details about what triggered the layoffs. Losses driven by the difficult state of the comic book market and the trough between in-production series on various streaming services impacted IDW's bottom line. These economic pain points are better detailed in ICv2's review of the first quarter financial results for IDW Media Holdings, the parent company for IDW Publishing. Short version: Money was not made in Q1.
Downsizings have a real life impact on those that lost their positions. Those that were let go represent leadership, middle management, workers, and creative directors, many of whom are notable in their fields. The difficulty for those affected by this reorganization cannot be understated. Not to trivialize their lost jobs and incomes, but there's another element to this story, how this affects tabletop roleplaying games?
IDW holds the license to create Dungeons & Dragons comics. As the public face of roleplaying games, D&D's importance to the health of the RPG industry cannot be understated. IDW's contract has been active since 2010, and includes the option to reprint older D&D series such as those from DC Comics (including the Forgotten Realms series) and Devil's Due Publishing. In addition, they can and do create new content ranging from Cutter written by R.A. Salvatore to Baldur's Gate tie-ins, Ravenloft tales, the Honor Among Thieves movie prequel, and the new series based on the 1980s Dungeons & Dragons Saturday morning cartoon. IDW offers a variety of projects that showcase the known campaign settings and types of stories you can play at your gaming table.
What benefits does Hasbro's Wizards of the Coast (WotC) get from their contract with IDW? Primarily, a steady stream of revenue. Beyond that, additional consumer awareness. After webseries such as those from Critical Role, the D&D movie, video games, and R. A. Salvatore's Drizzt Do'Urden novels as well as the new lines of D&D YA novels, these comics are many fans best connection to tales of D&D beyond the game itself.
The concern is, with these layoffs and a new CEO – Davidi Jonas, son of the principle shareholder Howard Jonas – taking the reigns, the company may reconsider their publishing strategy regarding D&D comics. They could let the license lapse. Alternatively, they could sit on the property without producing new content. Either hurts fans of the comics, comic book retailers, and, in a tiny way, Hasbro's quest to turn D&D into a billion dollar brand. To be fair, there's also the possibility that IDW ramps up the number of D&D comics they produce. Until IDW announces their path forward, it's impossible to say which direction they'll choose.
Other RPG Comics
For comparison to the D&D comic license, here are some of the other properties that made the jump from tabletop RPG to four-color funnies. Dynamite Entertainment publishes Pathfinder comics and is soliciting the first Starfinder series based on Paizo's sci-fi tabletop RPG. While Moonstone Books had the World of Darkness in the early 2000s, Vault Comics is the current home for Vampire: The Masquerade comics based on the White Wolf RPG. Outland Entertainment and Outrider Publications publish comics set in the alternate history of Pinnacle Entertainment Group's Deadlands. Dark Horse Comics publishes Cyberpunk 2077 comics based on the video game which is based on the tabletop RPG, as well as comics based on Critical Role's campaigns. Of course, there's Kenzer & Co's Knights of the Dinner Table, a comic magazine about gaming that I have the honor of contributing to.
That list of RPG-based comic books is notable for its brevity. Especially when compared to the projects that do not have a tie-in comic book series. In 2023, there aren't any comics based on Chaosium's Call of Cthulhu or RuneQuest. No comic publisher is utilizing the rights to make comics based on Old-School Essentials, Shadowrun, The Fantasy Trip, Mutants & Masterminds, Delta Green, Twilight: 2000, Dragonbane, or many other titles ready to be transformed into graphic novels.This is to say, RPGs rarely make the jump to comic book format.
If the largest RPG in the Western world ceases to have a supporting comic series, it will damage the cross pollination between the two medias. Where this will have the most impact is the smaller RPG publishers. Just as the Dungeons & Dragons: Honor Among Thieves movie represented Hollywood's litmus test for whether other RPGs are ripe for exploitation, sales of the D&D comics help comic book publishers to determine their financial interest for diving into RPG comic publishing. For RPG publishers, licensing their intellectual property (IP) into a comic series represents an additional income stream in an industry that is niche in both audience and economics. As well, it would broaden the audience for their property.
If D&D comics go out of print, will that impact Dungeons & Dragon's success as a tabletop RPG? Absolutely not. D&D will continue to grow. That said, Wizards of the Coast (WotC), publishers of the D&D RPG, experienced a variety of PR challenges. From lawsuits to overcharging for Magic: The Gathering products to sending Pinkertons after a YouTuber to the Open Game License (OGL) crisis, WotC's decisions have left them with a number of bad news cycles. The IDW D&D comics, many featuring stories by the much-loved comic and gamer Jim Zub, have been a consistent bright spot. Even as D&D's prose novel offerings decreased towards the end of the 2010s, IDW maintained a steady supply of D&D comics since 4th edition. Their work provides a consistent outlet for D&D adventures away from the gaming table.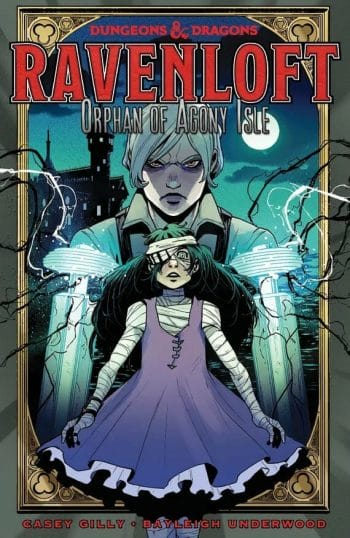 Are IDW's Dungeons & Dragons comics in imminent danger of cancellation? At the moment, no. IDW's most recent graphic novel Ravenloft: Orphan of Agony Isle, collecting the four-issue series of the same title, arrived in comic stores March 14th. The third issue of Dungeons & Dragons: Saturday Morning Adventures four-issue mini-series is scheduled for delivery to comic stores on May 24th. Based on past publishing trends, IDW will complete the four-issue series in June or July and make the trade collection of the series available by year's end.
After the current series, what's next for Dungeons & Dragons comics from IDW? That's hard to state with certainty at this time. The last news posts on their website are from 2022 announcing the movie prequel and cartoon-based series. The publisher just announced its reorganization, and needs to calibrate its staff and partners before cementing its next round of comic offerings. Will IDW continue to create original D&D comics? For the time being, the titles are safe. But only time will tell what they plan for 2024 and beyond.
Start a comment conversation in the secton below.