Perfect for Halloween but available all the way to Monday, November 14th, is a Lovecraftian Weird West setting from Stiff Whiskers Press. Weird Frontiers is based on Dungeon Crawl Classics and is a standalone game.
There's a bit of real-life history to the game, too; it was initially known as Dark Trails before agreeing to change the name to avoid confusion.
In an alternate 1865, Nyarlathotep cultists unleashed the Seven Days of Night to reawaken long-dormant Elder Gods. Now, remarkable heroes face an ever-increasing evil in a wounded society still reeling from the bloodiest conflict in American history.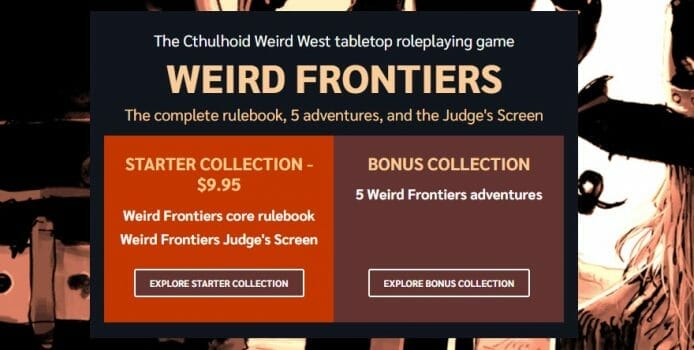 Starter Collection – $9.95
This tier has a retail value of $45 and the core rules.
Weird Frontiers core rulebook
Weird Frontiers Judge's Screen
Bonus Collection
The threshold price started at $19.95, moves around and unlocks $50 worth of downloads.
Never Swallow the Worm!
Not So Fast, Billy Ray!
Dig Three Graves
The Malevolent Seven
Nest of Snakes
Which charity does this horror support? It's the Greenville, South Carolina-based Paved Paws Animal League. Paved Paws tries to get animals out of high-kill shelters.
Quick Links
You can find thoughts and opinions on this article in the comment section below.