I've not been doing well with Kickstarters right now. I've several hardware ones which I don't think will show up.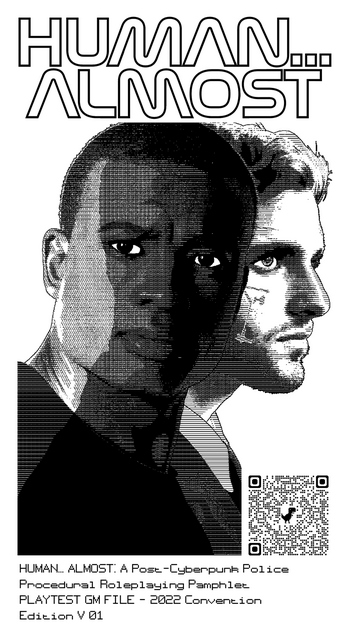 These campaigns promised smart machines and are actually probably criminals who've taken my pledge with no intent of ever making a product.
That's happened to me with RPGs, too, although much more rarely, and it's also worth noting I've probably had deliveries from game makers who have swallowed unexpected price hikes in logistics just to get backers their pledge.
However, when Egg Embry offered me a copy of Human… Almost (also from Itch) I perked up because this Blades in the Dark styled game was a done deal. Human… Almost fits in an envelope, and Egg mailed me my copy.
Human… Almost travelled just shy of 4,000 miles, and took 10 and a half days to get to me. That's a bit longer than I expected, but it works out to be an average of 15 miles per hour. I'm obscuring some of the stats there just in case Egg has stalker fans who try and reverse engineer locations from Geek Native's Edinburgh HQ!
Human… Almost fits in an international mail and costs a couple of bucks to get to Europe (or Brazil) because it's two pamphlets. Each one is a page that folds into three panels. In theory, one folded brochure is for the GM and the other for players. However, you need rules on both due to tight space, so I recommend reading both. You don't need Blades in the Dark, though, if you don't already have it.
Almost Human
I've written Human… Almost several times as Almost Human in the draft of this review. The game is based on the sci-fi show of the same name. It's a police adventure where human cops are paired with a machine enforcer to try and look after a shiny city.
We're back to my Kickstarter struggles with technology that looks great on the surface but flirts with a dodgy undercurrent. In Human… Almost the human cops and their synthetic partner, the apparently utopian city, is not without its own seedy underbelly.
Adventures in the game, which work best as one-shots, start with a crime that our cops must solve and track down the criminal responsible. Of course, there's the whole backdrop of the promise of smart machines and whether that goes well.
The system
It's a d6 system with clues and tags.
Tags describe specific characteristics the PCs might have, and if you can narrate them into play, you'll get a bonus. You can't do that twice, though, as they're one-and-done.
When you're ready, when it feels appropriate, a d6 (perhaps with that tag bonus) is rolled to see whether the cops solve the clue. That takes a roll of a 6. If you score 4 or 5, only then, there's been some cost or consequence to the success that needs to be factored in. Hitting only 1, 2 or 3 means there's a new clue to deal with instead. In other words, there's no clear-cut failure, just more plot, and this works well.
Bad roles can also give criminals advantages, giving them some oomph for the next scene.
Overall
I liked Human… Almost and for my few playtests (Discord games with indie gamers) the system ran much faster than the 15 miles per hour international post, or so it felt. It was more like a 0 to 60 in 15 seconds game.
Our group of experienced gamers got into Human… Almost immediately and fell swiftly into collaborative narration, adding complexities that created anti-hero and complex cop characters and a rather sympathetic villain in one game.
Great! But I'm a bit more cautious for complete rookies or anyone too wedded to 300-page rulebooks. Okay, I admit, such gamers aren't that likely to be eying up this indie RPG purchase, but I do think Human… Almost is What You Make It… Exactly.
An important caveat is that this is the playtest version, and you can buy it now, but changes may happen. On the flip side, you can buy it now for as much or as little as you want.
Overall? Recommended, especially for one-shot indie fans.
Please note: My copy of Human… Almost was a review freebie.
Quick Links
Comments about this article can be found below and discussion elsewhere on Geek Native accessed via the chat portal.