🐙Sponsored Post paid for by Geek Native. We may earn a commission on sales.
Fashionable shoe brands Akedo and Zavvi have forged another exclusive deal.
In a year of fashion and geek culture mashups, the geeky retailer has landed these Batman white signature high tops.
I need a replacement pair to my Ghostbuster shoes which didn't survive a year. Hmm, and these Batman designs are tempting! These high tops are hand printed and have a bright theme not commonly associated with the dark knight anymore.
If you've got good eyes, you'll be able to see Robin and Penguin featured in these classic scenes.
There are two versions; £59.99 for adults and £39.99 for kids.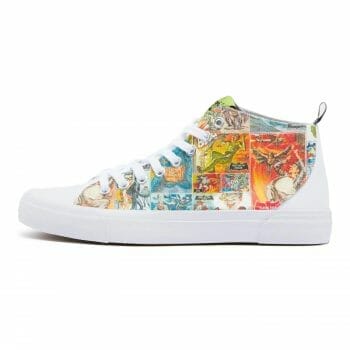 The orders take a while to arrive, but that's because these shoes are made to order. After all, fast fashion is a Gotham villain, and these are printed to order in Akedo's Manchester studio.
Quick Links