🐙Sponsored Post paid for by Geek Native. We may earn a commission on sales.
Is it early to be thinking of Halloween? Not with shipping on this Dog Demogorgon costume taking up to two weeks in some parts of the world.
Let's be honest, though; putting pets in costumes divides people's opinions. Only do it if your pet doesn't mind, and pick an outfit that lets them move safely. Hopefully, this NOA Demogorgon costume for dogs fits the bill. Others, some more expensive, are out there, but they don't review so well on Amazon.
NOA say their version is made from felt, so it's eco-friendly, soft, warm and durable. It's a collar from which the open mouth flaps can dangle; it's less dramatic but probably safer. NOA boldly suggest you might even get a cat or a toddler in one!
It's also not really a Demogorgon, and some stubborn D&D fans will delight in telling you. That doesn't subtract one gram of brilliance from the first season of Stranger Things, though, where this version first appeared.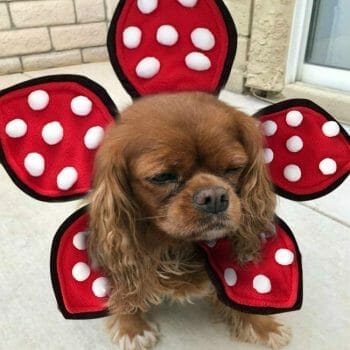 In D&D lore, Demogorgon is a two-headed formidable demon lord from the popular campaign setting The Forgotten Realms. Aameul and Hethradiah are apelike heads on an 18-foot-tall body with tentacles for arms. His huge torso is powerful and flexible, with a reptile bottom half and a forked tail.
That version of Demogorgon dates all the way back to 1976 and is a supplement by Gary Gygax and Brian Blume. It's the rulebook that introduces psionics and druids. The naked woman on the front cover helped edge the Satanic Panic on. That means Demogorgon was introduced to D&D about ten years before the Forgotten Realms, the setting for which the demon is now most commonly used.
Quick Links
What do you think? Sound off in the comment section below.