There's a free Jotunn War (Dropbox) comic from Outland and Ian Sharpe to get you in the mood. It's issue one from The Vikingverse, which will now become an RPG.
When the Wolf Comes, the RPG for the series, is also making an exciting move with the system. The engine powering the game will be Robert J. Schwalb's Shadow of the Demon Lord. The project has been funded, Outland has form, and you can see the pitch on Kickstarter.
The project will bring to market a 250-page, 8.5″ x 11″ hardback, which will have everything needed. A separate edition of Demon Lord isn't required.
It's more than a Viking history setting. When the Wolf Comes is a sci-fi and a timeline in which Christianity fell to Norse might.
In the game, humanity is a piece in a great game played by angry gods. Player Characters could fight back, resisting the ruin of the race or hurry it along while carving out their own rewards.
The RPG includes 10 Norse ancestries, sixteen paths and more than fifty mythic paths. There are spells and Old Norse names for things, too, magic, history and technology together.
It is harsh across the Empire, whoredom rife —a gene age, a machine age —mankind is riven— a restless age, a deathless age— before the Nine Worlds go headlong. No longer is there mercy among what once were men.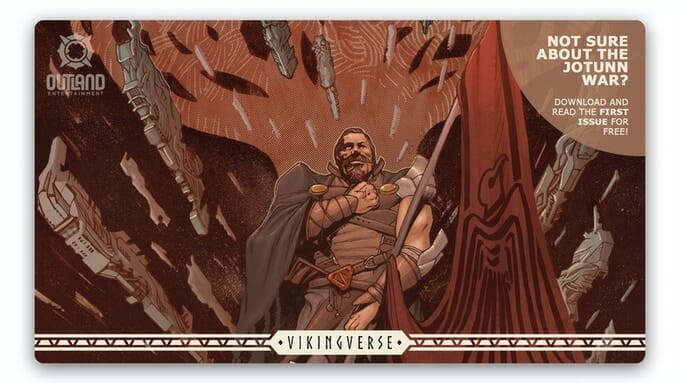 You can support the campaign with cash splashes and social clout. Finding any money gets you access to the pledge manager.
At CA$25, the PDF rules and any digital stretch goals become gifts for backers. Then, at CA$50, there's more electronic content with The All Father Paradox, Loki's Wager, Old Norse for Modern Times and a copy of The Jotunn War as ebooks.
The print copy of the RPG, a hardback, requires a CA$65 pledge if you want it as a reward.
The ebooks mentioned above and PDFs become hardbacks as you pledge more until CA$200. At that point, your face will appear in a later adventure.
January 2023 is the estimated delivery date.
Are you the first reader to have something to say about this post? Check out the comments below.