Geek Native has an exclusive look at art from the Gangs of Titan City RPG's weapons section and a full reveal of the Operative Gang Archetype.
That should make up for UK Games Expo distracting the busy SoulMuppet team and that the latest Kickstarter, a grimdark urban roleplaying game, Gangs of Titan City, has been running for a while. This RPG is not best left buried, and it's actually better late than never. You can see the Kickstarter pitch over at the project page.
Laden with consequence-heavy mechanics, the creators of Best Left Buried have penned Gangs of Titan City as a faction-focused, gutterscum game set in a nightmare supercity.
You're small fish when your gang starts out, and, if all goes well, you'll grow. Or you'll die.
Gangs of Titan City uses simple and flexible 2d6 design to be intuitive and fast moving. The dice provide tools to players and The Narrator to craft compelling stories about gangs who claw their way to towering heights and sometimes fall to terrifying depths. The game comes with a toolbox of gang archetypes, gang member playbooks, rules for arcane and unknowable tech, sector hexmap generation tools and a rogue's gallery to cautiously deal and ferociously battle with.

Drawing inspiration from a wide range of sources, Gangs of Titan City is a game for anyone who loves grimdark cyberpunk, dystopian futures, or criminal stories of rise andfall. If you're a fan of Necromunda, Fallout, Judge Dredd & 2000AD, Borderlands, Altered Carbon, Blade Runner, Mad Max or Mos Eisley stories, then this is a game for you.
Gangs of Titan City weapons
Operative Gang Archetype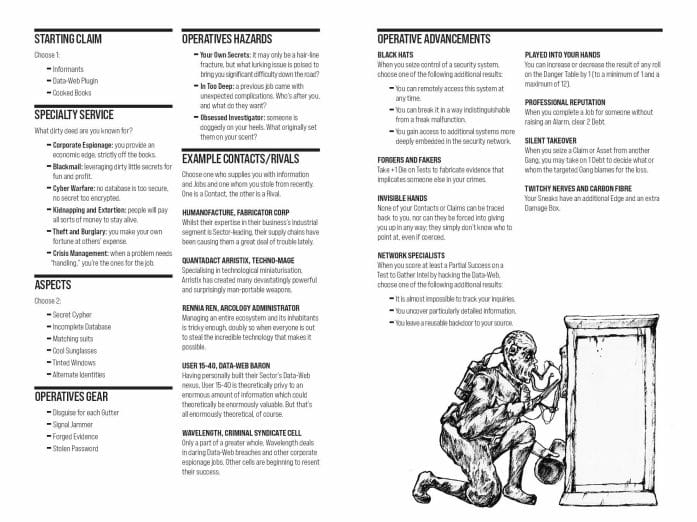 There are a few pledge tiers, including a hardship level, but if you can and want a reward, the first option is £20. That'll get you the PDF of the core rules and any digital stretch goals.
A jump up to £40 is enough to add the standard cover physical copy, minus shipping, to that reward pile.
Go up by the same amount again, hit £60, and that physical copy becomes a Kickstarter Exclusive cover.
Make the leap one more time, reach £80, and you've got your choice of cover and "exclusive physical gubbins". Both those exclusive tiers are limited.
The estimated delivery of the PDF is this August. The physical book is a little behind that, and in November.
See any comments you like below? Give them a thumbs up in the rating system.