Sky will air the Game of Thrones spin-off, House of Dragon, in the UK.
The show comes to the channel on August 22nd and stars Paddy Considine as King Viserys I Targaryen, Matt Smith as Prince Daemon Targaryen and Emma D'Arcy as Princess as Rhaenyra Targaryen, among many others. It's set about 200 years before the Game of Thrones we know and ends with the Dance of the Dragons.
Sky calls it an exclusive, while also showing it on their streaming solution NOW, and has the show page live. Of course, it's an HBO show, and you can watch it there too. Geography allowing.
Set 200 years before the events of Game of Thrones, the series finds the Targaryens ruling over the Seven Kingdoms — and on the brink of a civil war within their own house.

Prior to the birth of a son, King Viserys sent shockwaves through the kingdom and declared his daughter, Rhaenyra, his heir. Once a healthy boy entered the picture, plans were afoot to make sure she would never sit on the Iron Throne.

Now, with schemes hatched on both sides — and the kingdom in the balance — viewers will see the house that dragons built and learn how they tore it all down.

House of the Dragon will recount the complex history of the Targaryen family: introducing them at the height of their greatness and power and then dramatizing their fall.
HBO, who get it on August 21st, say;
The prequel series finds the Targaryen dynasty at the absolute apex of its power, with more than 15 dragons under their yoke. Most empires-real and imagined-crumble from such heights. In the case of the Targaryens, their slow fall begins almost 193 years before the events of Game of Thrones, when King Viserys Targaryen breaks with a century of tradition by naming his daughter Rhaenyra heir to the Iron Throne. But when Viserys later fathers a son, the court is shocked when Rhaenyra retains her status as his heir, and seeds of division sow friction across the realm.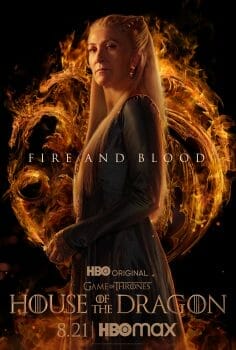 Quick Links
Comment and share your thoughts on this article in the section below.