🐙Sponsored Post paid for by Geek Native. We may earn a commission on sales.
It's a weird idea… but it works. There's an official Fallout: Tarot & Guidebook and it's due out in time for Halloween.
You can pre-order at Forbidden Planet already.
Forbidden Planet is the retail sibling of publisher Titan Books. Titan makes the Tarot deck and guidebook, so it makes sense that these cards surface there first.
The combo of cards and text are by Tori Schafer and Ronnie Senteno. Tori's background is in MMORPGs and specialises in diver character representation, which, pleasingly, shouldn't be that much of a problem in Fallout. Ronnie has worked for Nickelodeon Animation and Sony Pictures Animation.
Here's how Titan describes the set;
Featuring deluxe custom artwork of iconic figures from the beloved Fallout franchise, this deck is a great way to enjoy the characters and lore of this popular video game.

Containing both major and minor arcana, the set also comes with a comprehensive guidebook explaining each card's meaning, as well as simple spreads for easy readings.

Packed in a sturdy, decorative gift box, this compelling tarot deck is perfect for Fallout fans and tarot enthusiasts alike.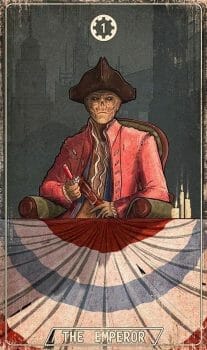 Quick Links
Hit us up with some intelligent observations in the comment box below.