Xplored has a multi-game deal in place with Paradox to make World of Darkness games. The games' company system does away with the need for human Storytellers.
The system, called Teburu, also has Ares Games, the publisher of Sword and Sorcery as a partner. There will be a Teburu Sword and Sorcery game too.
Firstly, though, Xplored are Kickstarting their own game. It's called The Bard Karamas and the Curse of the Zodiac. The goal is €200,000, and after just the first day, more than €120,000 has been pledged.
The Kickstarter reveals that Teburu doesn't use a flat-screen as a gaming board. Instead, it's an electronic board with sensors, and you place game-specific playing boards over the top.
The system tracks models using their bases through RFI and magnets, responding through the app when their position and the results of wi-fi enabled dice to determine it's appropriate to do so.
The Bad Karamas and the Curse of the Zodiac aims to come with the now-traditional generously proportioned set of minis for a Kickstarted board game.
What sets Xplored apart from some other attempts to Kickstart and then make commercially viable products with this same board game evolution is that they've been doing similar for years, have deals in place and have already bought much of the kit.
Does this Kickstarter shed any light on whether Teburu could be used as a GMless tabletop roleplaying system? The Bad Karamas and the Curse of the Zodiac supports two modes; skirmish and campaign, the latter of which feel more RPG, but the core of the system is clearly board game.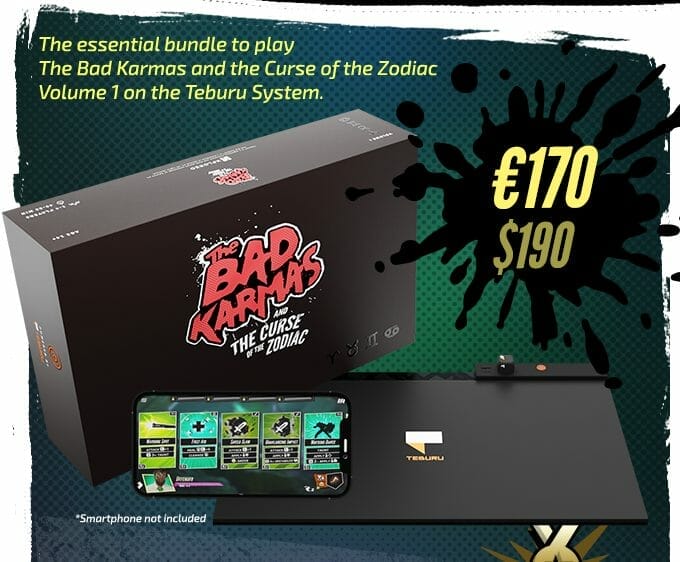 The pledge tiers are straightforward. Backers who want a reward must at least pledge €170, or about £143, with shipping and VAT to be calculated later.
At that level, backers get a copy of the first volume of The Bad Karmas, the Teburu system, access to the smartphone app and all the Core stretch goals. Also included is "Gold Founder" status and your name in the credits.
Backers who go up to €290, which is about £244, get three volumes of The Bard Karmas, the 13th Zodiac (Phiuchus), the complete dice set, Platinum Founder status and Saga stretch goals plus the previous rewards. At the time of writing, most backers have gone for this level.
There's also interest in the €1,000 tier, which offers four copies of the previous tier. Why would anyone do that? So you and three friends can play online together.
Get involved with the conversation. Leave some thoughts below.