Last year, the Bundle of Holding has a collection of 40s and 50s radio plays on offer, Geek Native even did a review.
Today, the bundle site has launched a new deal with new plays. Suspense Radio returns to the 40s and 50s for more crime dramas that have been digitally remastered.
There are 40 half-hour episodes on their own bundle page.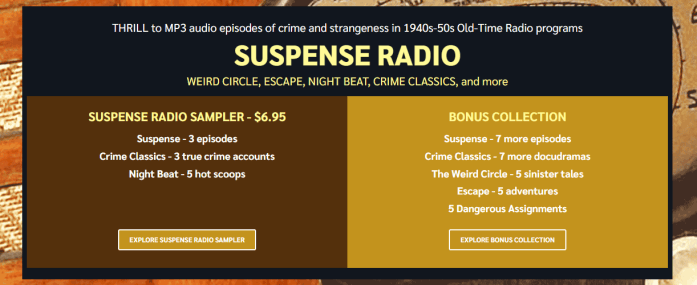 Suspense Radio Sampler – $6.95
The retail value of these downloads comes to $33.
Suspense – 3 episodes
Crime Classics – 3 true crime accounts
Night Beat – 5 hot scoops
Complete Collection
The threshold value started at $17.95 and will float up or down as people buy the bundle. It unlocks an additional $84 worth of content for your ears.
Suspense – 7 more episodes
Crime Classics – 7 more docudramas
The Weird Circle – 5 sinister tales
Escape – 5 adventures
5 Dangerous Assignments
It's a good charity cause as well with the bundle, with about 10% of the money raised going to The Internet Archive.
Quick Links
Why not leave a comment below and get to know other Geek Native readers.