I liked the Netflix adaptation of Cowboy Bebop. I didn't love it, but I liked it and accepted that it was different and yet true to the anime.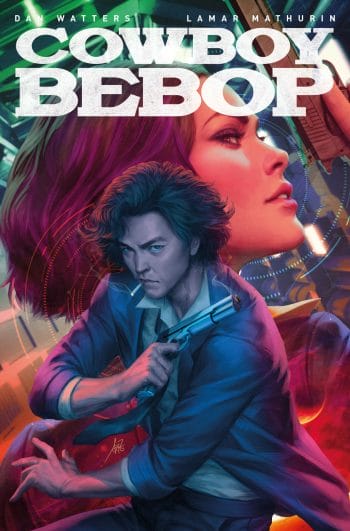 I like the Titan Comics adaptation of Cowboy Bebop. It's too early into the comic book's life to tell whether I'll love it, but it's different again and, so far, is just as true.
The comic book series is out this week from ComiXology or retailers like Forbidden Planet.
In theory, the comic book is based on the Netflix series, and I guess it's possible to lean towards the TV series because there is some divergence from the anime. The story is set in 2171; the crew of the Bebop are chasing an ex-gangster who has a lucky vest.
I was wrong. I was expecting a build-up to the chase and dreading over the top whacky humour. Sometimes it's good to be wrong, as Dan Watters' story dives deep into the action (almost starting with 3, 2, 1…) and although there is a lucky vest, it's not that much of a zany storyline.
It's the typical Cowboy Bebop "Oh, it's kinda familiar, but also different" type of encounter.
Plot-wise, therefore, Cowboy Bebop feels very true to the franchise. Spike, Jet and Faye are the Spike, Jet and Faye I'd expect (with Faye dressed somewhere in between) and admire.
It's Lamar Mathurin's art that's very different.
The colours are bold. Bold with yellows, greens and reds. Bear with me; I'll include example pages to see I'm not messing with you because while the colours are bold, they're also muted.
It's like shadows and light got together for a party and played with colours.
It's like every scene is a twilight, and the darkness is about the rise up. Or a dawn, and things are about to get better.
The colour palette feels far less traditionally Bebop to me, but it works. Cowboy Bebop is visual. Oh, it's many things, it's very clever, but one of the wins is the solid visual. Frankly, it's hard in a visual medium like comics to be strong and different because that's what they all do or aspire to. I guess Cowboy Bebop, the comic book, can attribute some of its "this is different" success to it being different to other Bebop stories, but I think it's more than that.
I want to call out the look and feel of the gangsters too. Once again, we've different but true to Bebop, and I think Mathurin has done well here. There's a theme to the villainous gangs and mobs the crew encounters or, at least, the gangs theme themselves, and we get that again here.
We're given bebop and cowboys in the opening panels and might not even realise it.
I'm looking forward to issue two of the sci-fi series, and I'm going to see if Watters and Mathurin have been hiding anything else in plain sight.
It will be a four-part story with a trade paperback to pull all four parts together due out later this year. A Cowboy Bebop RPG is expected later.
My digital copy of Cowboy Bebop #1 was provided free to review by Titan Comics.
Quick Links
Leave your thoughts below or pop over to the chat portal to find out what people are saying across the site.