Star Trek Nerd Search: The Next Generation Bloopers of the Borg Book is a puzzle book. Inside, you'll find excellent illustrations with deliberate mistakes, and our challenge is to spot those mistakes.
It's not a mistake, but you can get a copy of this hardback for free if you're based in the UK and are one of two lucky winners in this competition.
The book is published by Eaglemoss and you can buy it from them, or Amazon, if you don't win.
To enter the competition, use the widget below and complete the missions it generates for you to earn points. Each point is a chance of being picked as a winner.
a Rafflecopter giveaway
(T&Cs apply | UK only)
(Ends 31st Jan 2022)
With appropriate homage to The Next Generation, this book is by Glenn Dakin, who has designed previous Nerd Search books (including Quibbles with Tribbles) and knows how to balance fun with frustration when it comes to making the hidden errors hard to spot.
In fact, there are 10 random items from Star Trek: TNG hidden in each scene in Bloopers of the Borg, so each challenge is actually a double feature!
Here's how Eaglemoss describe the tasks;
The reader is challenged to discover five continuity mistakes created by the Chaos Cubes, such as TNG characters dressed incorrectly, scenes, or even the wrong series, in the book.
Inside Bloopers of the Borg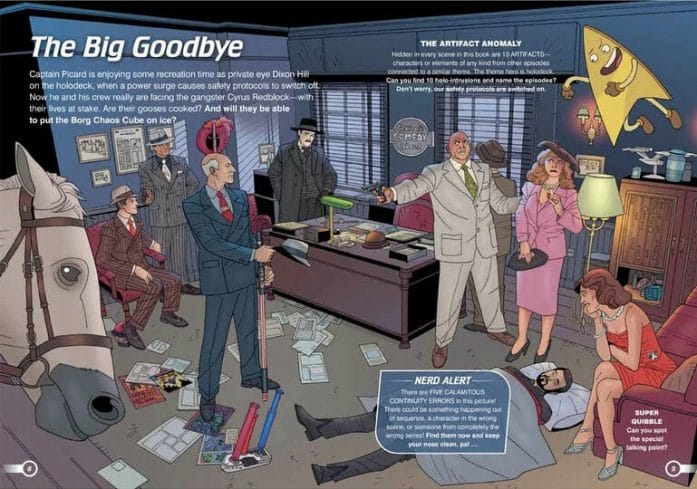 Latest competition
Competition: Win Chaos Curios gamer geek candles
-
There's the Chaos Crafter, Maker of Chains and the Queen of the Click Clacks and relevant to this competition, there's also the Forger of Dice Wax Melts. [...]
Quick Links
Start up a conversation in the comments below.