The Hero 5e Megabundle launched yesterday looked impressive with over $330 of content on offer.
Today, a 2nd and 3rd offer were launched. One is Champions 5e Megabundle worth $248 and the other Champions 5e Universe Mega worth $218. Both expire by the 10th of January.
Champions is the superhero RPG from Hero Games, and these two bundles offer setting sourcebooks.
Champions 5e Megabundle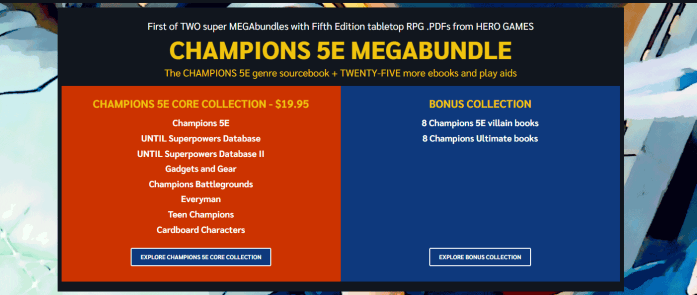 You can grab these from the Champs bundle page.
Champions 5E Core Collection – $19.95
The retail value of this tier is $87.
Champions 5E
UNTIL Superpowers Database
UNTIL Superpowers Database II
Gadgets and Gear
Champions Battlegrounds
Everyman
Teen Champions
Cardboard Characters
Bonus Collection
The threshold price for this tier started at $39.95. It'll move or down with demand and unlock a further $161.50 of value.
8 Champions 5E villain books
8 Champions Ultimate books
Champions 5e Universe Mega

Fans can secure this two-tiered bundle from its own offer page.
Universe Starter Collection – $19.95
There's $87 worth of Champions products available at this tier.
Champions Universe 5E + News
Millennium City
Champions Worldwide
Champions of the North 5E
UNTIL: Defenders of Freedom
Stronghold
Universe Bonus Collection
The threshold price, which shifts as people buy the bundle, started at $39.95. If you make the current level, a further $131 worth of Champions downloads are included.
Dark Champions 5E – 5 titles
4 Mystic Champions sourcebooks
Vibora Bay
Galactic Champions
Hidden Lands
Monster Island
Both bundles support the charity Direct Relief, slicing a portion of the cash off to donate to the good cause.
Quick Links
It's the internet! No doubt someone has left insightful and witty comments. Check below.