We're right in the middle of the toy buying frenzy, and no wonder The Toy Zone has something to say. It's their time of year.
The collectable site has been researching what the most popular toys in the world are and have a board game category, and a console one too.
Let's begin with the world map of toys.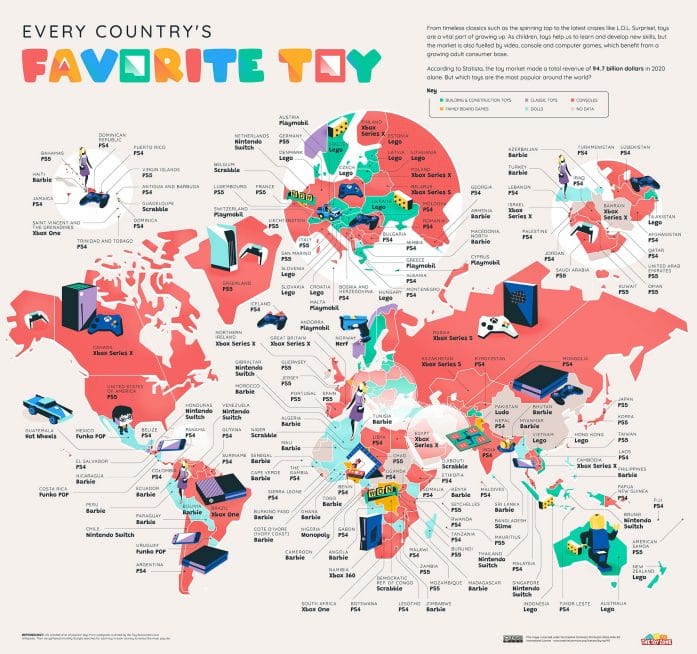 The methodology is important and uses Google search volume as you'd expect for this sort of thing. Obviously, there are some complications with that approach, but that's not all The Toy Zone did. The difficulties, of course, include intent. Is someone searching for Carcassone looking for the place or the game? Does The Toy Zone even count Carcassone as a board game? I don't count it as a game, nor my dusty old Xbox, for that matter.
However, The Toy Zone started with categories from the Toy Association and Wikipedia. They then cross-referenced that with other popular lists to produce a macro picture.
And what a picture! If nothing else, this clever bit of re-usable cartography sure looks striking.
Most popular board games around the world
While I do like the results I wonder whether we're looking at a particular type of board game here. I don't want to say "family board game" as the word family is loaded and incorrect. Most popular casual board games? Most popular big brand board games?
Most popular consoles around the world
A surprisingly cosmopolitan mix of consoles, which is no bad thing.
Popular toy data
Quick Links
Find out what Geek Native readers say about this in the comments below. You're welcome to add your own.