It divided fans and now Netflix's Cowboy Bebop TV series has been cancelled.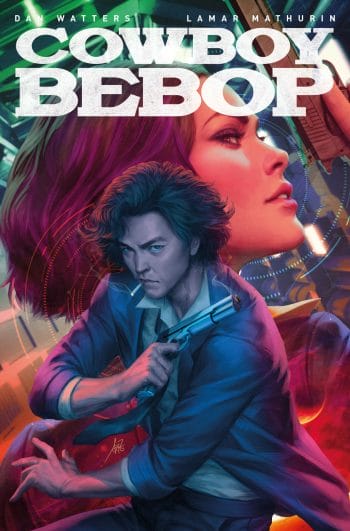 But, there's life in the project yet. Titan Books has Cowboy Bebop: A Syndicate Story: Red Planet Requiem the novel and in January the comic book series launches.
We've seen the covers, and now there's a chance to preview some of the comic book art.
The comic book series is an all-new story, one that's set in 2171 and has the Bebop crew on the heels of an ex-gang member. What makes that chase so hard? This former gangster has a weird vest that grants unlimited luck.
The preview shows an art style that many might not have been expecting. Titan's story uses bold colours, black pages and high contrast. This is neither American superhero style nor Japanese mang, well, not the traditional forms of either.
However, the visual callbacks to the TV series are explicit. Spike in the art echoes John Cho's portrayal and Faye is a bit less reminiscent of Daniele Pinada.
Written by Dan Watters (Arkham City, Lucifer) and illustrated by Larmar Mathurin, the Cowboy Bebop series will have a physical and digital release. The RRP for the title is £3.60, according to Forbidden Planet.
Cowboy Bebop #1 comic preview
Quick Links
Join in the conversation below or teleport over to the chat portal to join in the conversation elsewhere on the site.