I blogged about and then backed this Kickstarter to make Christmas tree dice spinners. Clearly, I wasn't the only one who thought they were a good idea as we've had problems with rip-offs and fakes since then.
The good news, for me, is that I have my "in the post" messages from the campaign and logistics company. I may get mine in time for Christmas, which was always the gamble.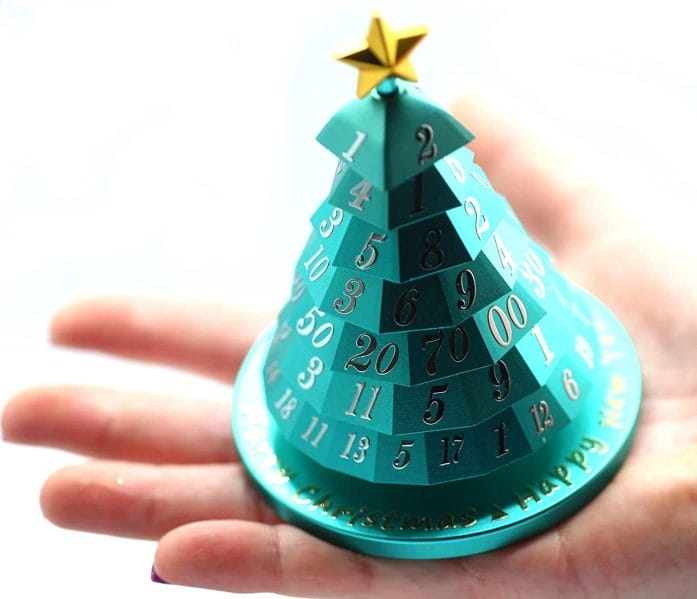 [Wheee!]
Mark Franzen, the project coordinator, confirmed the dice trees had shipped and shared the Amazon news. You can now buy the Christmas spinners from the US site.
Here in the UK, I see a $79.99 price tag and an estimated delivery date of Jan 3 to 7th. Presumably, Amazon can ship more swiftly to the US and perhaps Canadian addresses.
The advantage of the Amazon listing is the explicit details about the quirky dice. These "trees" are just over 4″ tall. My Pixel 4XL is over 6″ in the case, so these spinner trees aren't going to stand in the corner of the room and take the jobs of the traditional Christmas tree. But they will sit on the table.
The spinners are also 3/4 of a pound of solid aluminium, although apparently spin with just a flick of the finger. I don't imagine the postie will be thankful for many to deliver.
The spinners also come in various colours, from gold to traditional festive grees and reds. I no longer remember which combination I went for and will have a pleasant surprise when my package arrives.
Quick Links
What do you think? Sound off in the comment section below.