Dungeons on a Dime will eventually give the contents of Carved in Stone away for free. The book is a look at Scotland's multicultural and diverse history. In the 7th century, the Roman empire was nothing but remnants; seven different tussling Kingdoms in Scotland and five different languages were left behind.
See, diverse! Also, it sounds like an ideal set-up for a tabletop RPG. That's where the Kickstarter comes in. You can join in, support the educational and practical project or just watch the progress on Kickstarter.
You back this project to get it sooner, perhaps get your name in it, secure the book and help with an education-centric rediscovery of Scotland.
Society of Antiquaries of Scotland and the University of Glasgow's archaeology department is involved. Geek Native is based in Edinburgh, along with Dungeons on a Dime, but isn't involved beyond backing the project and writing this up.
The book is for storytellers, such as tabletop gamers, learners and historians. I'm backing for the art too, it looks gorgeous.
Despite being Scottish, I admit to not knowing enough about this period of history. I know about the Romans, I had the same assumptions about woad warriors, and then history lessons taught me about border politics. Carved in Stone's name suggests gorging material out of something, but for me, this material is going into a hole.
A successful Kickstarter means more than a book. There will be merch and VTT materials. Success means more of this line and similar projects.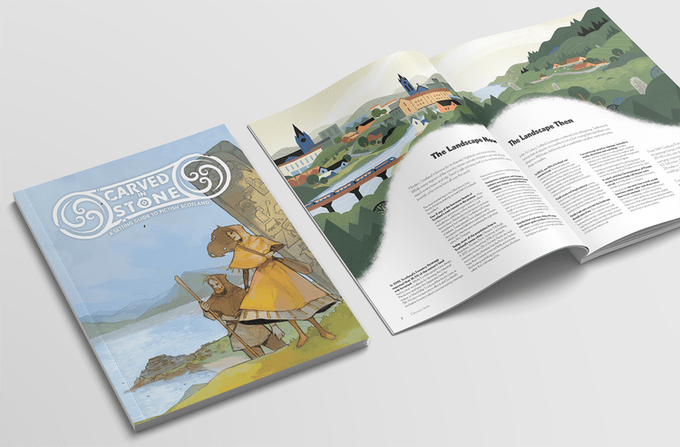 Backers who pledge £8 will get early access to Carved in Stone's content, well ahead of the 2023 Creative Commons expected release.
Stepping up to £15 adds "Postcards from Pictland, " a collection of A6 prints.
The physical book is added to the rewards for backers at the £30 level, and your name appears in Ogham in the endpapers.
There's a £65 level, in which you also buy a community copy of the book and secure a pin-badge.
There are higher tiers still, offering multiple copies and even attendance at a fantasy writing workshop. Irrespective of the level, the expected fulfilment is November 2022.
What are your thoughts? Strike up a discussion and leave a comment below.