Goatlands is a campaign setting from Fainting Goat Games that uses D&D's 5e system. The setting has typical D&D high fantasy at its core and then stretches into regions to add in sword and sorcery, dark fantasy, intrigue and other adventures.
There's no campaign setting core book, instead, Goatlands is introduced across four adventures. The Kickstarting Goatlands Adventures Omnibus brings those together in one book. You can see progress or join the campaign from the pitch page.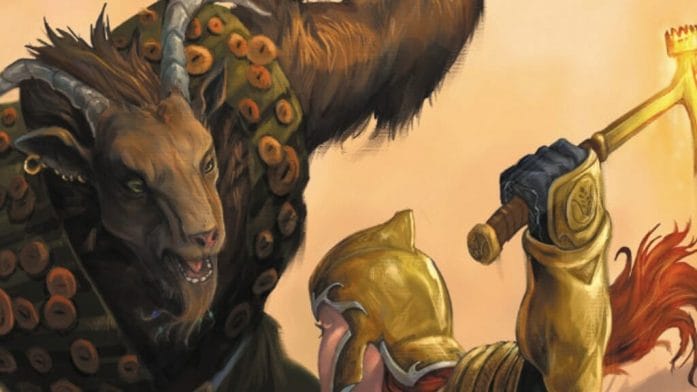 The crowdfunding goal is set to only $200, which is well on the way to being met a few hours after launch. Why so low? Everyone has been paid, and Kickstarter is to ease costs.
If successful, the campaign means a new cover for the Omnibus by Storn Cook and a print on demand option.
The newly compiled book will be over 110-pages long with its adventures and world expanding work from Jason Tondro, Ade Smith and Jim Seals.
Spiders on the Storm, suitable for 1st level characters, complete with the Gazetteer for the Kingdom of Panalane is the first of the four entries. Next, Death in Greenshade is an adventure for 2nd level characters and supplements the militant order of the Voices of the Wild. The Fearfield War is the second of the Jason Tondro penned adventures for characters levels 3 to 5 and adds the goat folk player character race. Lastly, Mutiny at Blooming Port is a 3rd level adventure designed to be played over only one or two sessions.
There are hardship tiers available, but the PDF copy of the Goatland Omnibus is great value at only $5. You'll get a Dropbox or Google Drive link shortly after you pledge.
The print on demand copy, which leaves you to pay shipping and printing, is unlocked with a pledge of $7.
Take part in Geek Native's community by sharing a comment below.