The Deadlands Noir bundle last ran in 2016, that's five years ago. But it's back from the dead now, as Pinnacle Entertainment Group have the complete Noir line on offer.
Set in 1930s New Orleans, in the weird west universe of Deadlands, this bundle supports the National Center for Missing and Exploited Children. You can get these RPG downloads from the Bundle of Holding.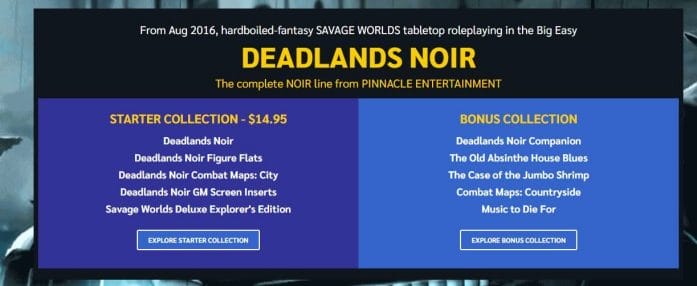 Starter Collection – $14.95
In this tier, you'll get $60 worth of retail value.
Deadlands Noir corebook ($10)
Hexaco and New Orleans maps ($4 each – total $8)
Player's Guide ($5)
Figure Flats ($7)
Combat Maps – City ($4 each – total $16)

Manor, Offices, Theatre, Warehouse

GM Screen Inserts ($4)
Savage Worlds Deluxe Explorer's Edition ($10)
Bonus Collection
The movable target, that is, the threshold price, started at $24.95, and if you make the current value, you'll access a further $61 worth of Noir RPG content.
Deadlands Noir Companion ($15)
Companion Player's Guide (free)
Old Absinthe House Blues ($10)
Case of the Jumbo Shrimp ($10)
Combat Maps – Countryside ($4 each – total $16):

Bayou, Cabin, Cemetery, Crypts

Music to Die For (Original Soundtrack) ($10)
The bundle deal is live until the end of November the 8th.
Quick Links
Teleport over to the chat portal to learn how to unlock comment badges.