This is not a Halloween post; Geek Native will blog about vampires and the movies at any time, but it happens that Vampire Cinema – The First One Hundred Years is due out on Halloween.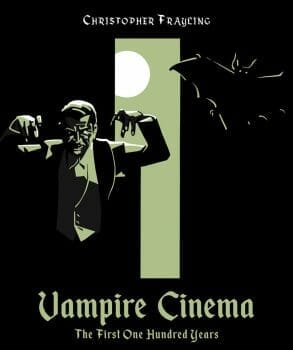 Christopher Frayling, who authored Frankenstein: The First Two Hundred Years, is being published by Reel Arts Press. That's a publisher who makes headlines with limited editions or mass appeal books with luxury production values.
The cultural historian digs into our fixation with vampires. The book explores the bloodsuckers in all forms, looking at what's been portrayed in the last 100 years.
This coffee table book transports readers from castles and graveyards to high schools and shopping malls. In it, the bloodline has spread from Nosferatu's silent nightmare to Hollywood's Dracula and progeny (1931-48); Hammer's Dracula and sequels (1958-74) to versions of Sheridan Le Fanu's story Carmilla and other lesbian vampires (1970-2020); and vampires who have shed their capes, hereditary titles, and period trappings to become assorted smalltown oddballs, addicts, delinquents, psychopaths (1975-2022). The vampires of modern fantasy have evolved to seek kinship with misfits and lonely newcomers as we wish for them to walk among us, no longer bound to cobwebs and graves. Each cultural epoch has a vampire series that defines it; dread and desire are concentrated in every form.
Inside there are stills from the movies, art and press books. Fittingly enough, some of these visual treats haven't seen daylight in a long while.
Vampire Cinema – The First One Hundred Years preview
Quick Links
Scroll down to find the Geek Native community comment section.