"Feed the loot goblins," suggests Dungeon Scribe in the intro to a Kickstarter campaign to make decks of cards of unique 5e magical items.
The idea is that you can show your players what their characters just found and then use the card as a quick reference. You can check out the pitch on Kickstarter.
Each check contains 50 Magical Oddity Cards, and the promise is that each card has beautiful art with easy to understand mechanics. The back of the card has a flavourful lore reference hook, quick-reference icons and abilities.
These are larger cards than average at 146mm by 89mm (about 2.5×5.75 in Imperial), so there's more space and more impact with them on the table.
Keep your tables guessing by introducing new and surprising items to their players and their foes. Was that truly an evil mastermind or just a former adventurer who assembled the wrong set of magical armor? Are those whispers from your companion's hammer a sign of weal or woe? There are things for everyone, from the power hungry to the actors, all awaiting fully formed at your fingertips to be peppered into your worlds.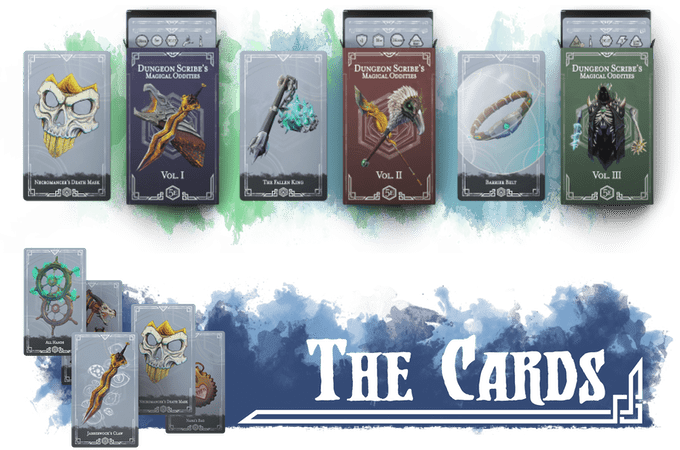 A pledge of $22 unlocks one physical deck, with a digital deck and exclusive stickers, as a reward.
Three digital decks, which have printer versions, are there for pledges of $30.
If you want all three in physical form, then it's a pledge of $60.
There are higher tiers, such as a $90 one which adds some exclusive card stands and table handouts or even a $125 for a Dungeon Scribe Dice Bag, Ore Dice and a storage chest.
Whichever tier you go for then the expected delivery is still March next year.
Geek Native's policy is not to copy and paste entire press releases, though we do use quotes and comments from them. As often as possible, articles here contain analysis, observation and denote speculation. You can read the site's commitment to accuracy and disclosure here.