Steaming show and homebrew creators Ink and Lyre have taken their Aroria setting to Kickstarter. The Stargazer's Guide to Aroria introduces the setting's new races, subclasses and the Zodiac character creation system.
The campaign is already a huge success, there's nearly a whole month to go, and the target of $24,500 has been met. Right now, there's almost $35,000 pledged. You can see the latest total or join in on the project page.
In this setting, Zodiac Signs are active on the Material plane as Divine Avatars and have mythological power levels. The Divine Avatars only appear in times of turmoil and respond to different disturbances in The Weave.
It rather tugs at the question, "If Zodiac Signs are real, what does that mean for free will? Are we fated by the stars we are born under?"
Stargazer's Guide to Aroria is a 250+ page campaign setting for Dungeons and Dragons 5th Edition. The book introduces zodiac signs & astrology as a character creation concept. The robust rule set and lore driven signs help you create a unique character that is empowered by the celestial bodies. Download a sample of Stargazer's Guide to Aroria below to learn how the new system works and preview the new Subclasses, Races, Factions, Locations, and More!
Lauren Hodges is the game's creative director, Daniel Hodges the writer, Jake Huebsch the game designer and publishing director. Christian Hatcher is the technical director, while Deanna Smit assists with art, Brandon Hatcher and CJ Gahagan as writers. Dani Dewar is the busy community Manager.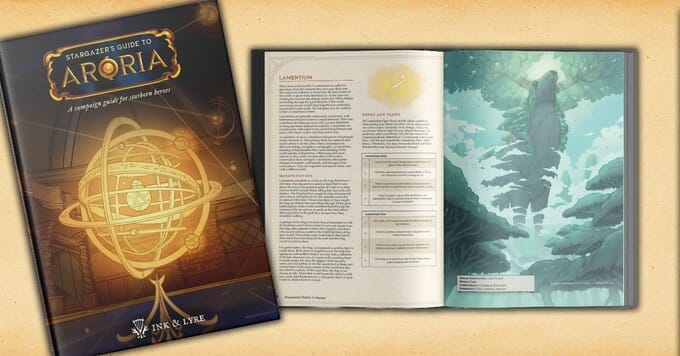 With all digital stretch goals and a credit in the book, the PDF of the campaign guide is part of the $20 tier. That pledge level is limited, though there are a few hundred spaces left, and then the price rises to $25.
A similar $50/$55 deal adds the hardback Campaign Guide to the rewards.
There are higher tiers; $130 adds stickers and a pin, and at $260, there are extra copies of the book. The final level is $450, but this is a campaign with lots of good looking add-ons.
Fulfilment is expected to happen in January.
Let us know what you think in the discussion area below.