The Sanctum of Pain is an 8-page adventure for Dungeons & Dragons 5e.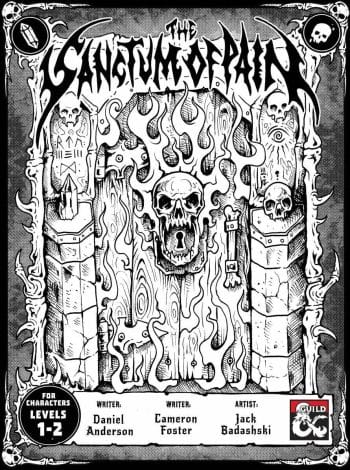 The scenario characters at levels 1 and 2 and is a three-room dungeon. The point of a three-room dungeon? To find the crystal, skull and the key as they need these to escape.
The author Daniel Anderson of the Bugbear Brothers says it's a good module to open almost any campaign as in these three rooms are a variety of monsters, traps and puzzles.
An 8-page download for a three-room dungeon? The PDF also has print-and-play maps as well as paper minis to print and put on those maps.
The Sanctum of Pain is entirely free. It sounds like a great deal.
Also, an interesting thing about The Sanctum of Pain is that Wizards of the Coast have helped highlight it.
I don't sell anything on the DMs Guild, and so my curiosity on what Wizards of the Coast choose to highlight and not is entirely academic.
Do the creators know in advance? Do they wake up one morning to discover that followers of the main D&D Twitter account have all been recommended your product? Do they regret taking that Friday off and not adjusting the price back up to $1 as they had planned?
A glance at the landing page shows that this tweet is tagged with "src=wotcspotlight07072021" in the URL for The Sanctum of Pain and that src= query string value is used in OneBookShelf's tracking.
Somewhere, someone now understands how effective D&D's official tweets are at moving OSR-vibe low-level freebies.
Quick Links
Join (or start) the healthy debate. Share your observations below.