D&D Live is on, and Wizards of the Coast are talking about the newly (and now officially) announced Fitzban's Treasury of Dragons.
Fitzban (the Dragonlance Fizban) offers the first dragon-specific book for 5e and the book's writer, James Wyatt, says it's comparable to Volo's Guide to Monsters or Mordenkainen's Tome of Foes. That means monsters at the end, a third for DMs and one third for player options.
As introduced by an Unearthed Arcana in playtest form, two subclasses become canon; Way of the Ascendant Dragon for Monks and the Drakewarden for Rangers. There are more options for Dragonborn too.
Fizban's Treasury of Dragons alternative cover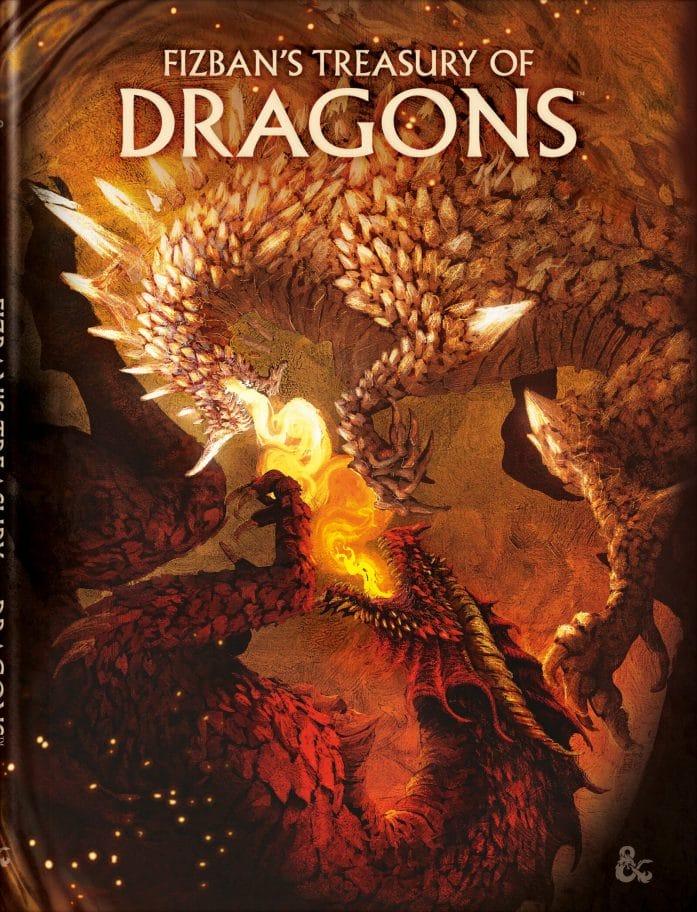 Wizards of the Coast have shown the alternative cover for the book after some clever digging by Nerd Immersion revealed the main one.
It's a golden and red image, dominated by fire as a gold dragon battles with a red one. The words "Dungeons & Dragons" do not appear on the front cover, but the D&D ampersand does. This is much subtler branding than the main cover and perhaps a sign that the publisher hopes people might be tempted by the book on dragons, even if they don't play Dungeons & Dragons.
Great Wyrms and Gem Dragons
As guessed by the community after the default cover was revealed prematurely, Fizban's Treasury of Dragons reintroduces gem dragons back into D&D.
That means Dragonborn can also have the Gem heritage.
James Wyatt talked a little about character options, the new sub-classes and gem dragons, noting;
It's not just if you're choosing one of these new subclasses like the dragon-blooded Sorcerer, but you might be a cleric of Bahamut or Tiamat, and have a dragon-y feel that way. Or you might be a warlock with an archfey patron, which happens to be a Gleamstone Dragon, which is a feywild dragon introduced in this book—so you've got a dragon-y feel that way while you're using any of the subclasses or other rules in the game already."
As for the dreaded Great Wyrms, Wyatt points out that some foreshadowing has happened.
We have a couple of stat blocks in the bestiary section for our Great Wyrms—dragons that have advanced beyond the power of even an Ancient Dragon from the Monster Manual"
These use the mythic monster technology that we debuted in Mythic Odysseys of Theros, to be the exceptionally challenging encounters on their own—almost like fighting two monsters back to back, both of which are of Challenge Ratings above 20. They are tremendous forces of magic in nature that bend the world around them, and wreak havoc wherever they go."
Quick Links
Via Gizmodo.