🐙Sponsored Post paid for by Geek Native. We may earn a commission on sales.
I have got a terrible habit of spending too much money on a novelty Christmas sweater, wearing it once, forgetting I've bought it and repeating the same thing two years later.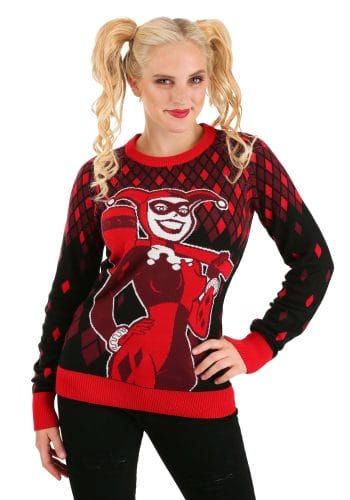 But I've never bought an ugly sweater in July! Not that the time of year seemed to bother Fun.com, who recently added this Harley Quinn adult ugly Christmas sweater.
I've two observations to make;
Firstly, this is hardly an ugly sweater! The Christmas colours are spot on, and I think it's pretty classy. Unusual, yes, but stylish with geek cred.
Secondly, it sold out!
Yes! Who are these geeks buying up Christmas gear? Is this the trick to avoiding paying Amazon twice as much for an urgent joke sweater delivery?
As it happens, Fun.com are predicting a September 9 return for all sizes of Harley Quinn's Hammer Time from x-small to 3x large.
Now, since I called the sweater stylish, I feel like I have to point out this exclusive Women's Harley Quinn blazer. Now, that's swanky!
Of course, the oncoming titan that is The Suicide Squad sequel, this time with James Gunn at the helm, will be helping sales.
Here in the UK, Cineworld says 30th July on their page and in the States Fandango says August 6th.
Quick Links
Harley and her sweater are part of Superhero Week, and so you can leap on this teleport link to fast travel to another article in the series.