🐙Sponsored Post paid for by Geek Native. We may earn a commission on sales.
It's Father's Day, and weirdly that means sales. I've learned to notice this, not because I'm a good son, but because my blogging radar often tingles with good geek culture discounts and discoveries.
This year, and ending on July 1st, I've this 20% off Box Lunch deal, accessible only via this link (although other sites may have the exact same agreement) to share.
Box Lunch is a civic-minded retailer with a focus on pop culture and works with local food banks. It's owned by Hot Topic.
Avatar: The Last Airbender Appa lunch box
Trust Appa to carry your lunch! This polyurethane box is about 10″ w x 8″ h x 3 3/4 deep and has horns.
You can see a little more about Appa at the store but don't forget to enter the site via the Geek Native discount link to shave some dollars off.
Box Lunch isn't a brand that's made it to the Scottish high street, but in the States, you can arrange for a free in-store pick-up rather than ship Appa.
Naruto Shippuden Hidden Leaf Village Headband
I've often thought that a Hidden Leaf headband would be cosplay in the pocket backup for any geeky convention. If there's a sudden need to fit in, or stand out, then revealing you're a ninja in disguise by donning your headband is a workable solution.
If you have a headband.
This is a one size fits most item, made from polyester and with Appa, you can see a little more of the headband on the site but still recommend using the discount link trigger first.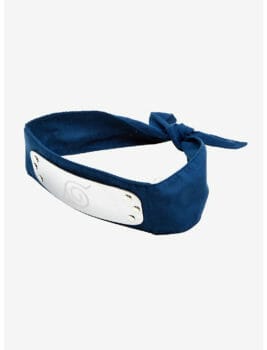 Funko SODA: Iron Man
Not a drink. There's an Iron Man Vinyl figure inside. There's also a POG-style disc to collect.
Furthermore, Box Lunch has enough marketing chops with Funko that some of their stock are of a special variant of Tony Stark. These variants are randomly shipped. On the downside, it means you can't control precisely which Iron Man Soda you get. On the plus-side, it means you might get a rarer item.
You know how this works by now. The product page is here, but that may not trigger the 20% deal. You should see a strip alert across the top (ish) of the site.
SpongeBob SquarePants Krusty Krab Pizza Coach's Jacket
Would this have made a good Father's Day gift? Cool dad.
This SpongeBob SquarePants masterpiece is available in a range of sizes, from extra small to triple large.
Sporting the Krusty Krab Pizza logo on the back, the jacket has a button up front and a drawstring waist, which I think is an unusual combination.
You can rummage the product details before anything else.
Quick Links
Take part in the conversations on the site and leave a comment below.