The Op have announced that Avatar: The Last Airbender Fire Nation Rising is coming soon. It'll be their 6th Avatar: The Last Airbender game, and in it, you'll discover how The Hundred Year War ends.
Up to five teams take on Lord Ozai of the Fire Nation, represented by a towering figurine in the centre of the round map board. Aang, Katara, Sokka, Toph and Zuko have their own dice polls and, of course, their own unique abilities.
While Ozai deals damage every turn, depending on the Fire Nation cards drawn, the team leaders recruit Heroes and friends like Momo, Appa and Avatars Roku and Kyoshi.
Are you brave enough to face Lord Ozai? The Fire Nation is primed to claim victory in the Hundred Year War against element bending Avatar Aang and fellow heroes Katara, Sokka, Toph, and Zuko. In this cooperative card and dice game, players must work together to recruit other Heroes from the four nations and battle a variety of Villains leading up to the Day of the Black Sun.
For ages ten and over, Avatar: The Last Airbender Fire Nation Rising can be played solo, needing only one player while supporting up to five.
The game is played in about 60 minutes and has 16 Hero Dice, that 1 Lord Ozai Sculpt, the map board, Fire Nation, Ruin Track, Team, Battle and Character Cards, plus Balance, Ruin, Pai Sho and Damage counters.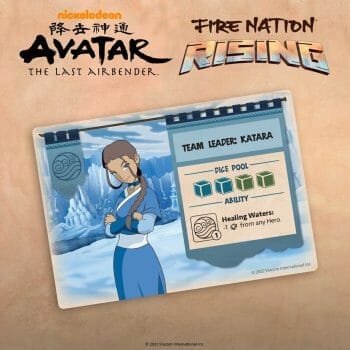 The rules are out and free to download (PDF link) already but the game isn't. Fire Nation Rising is slated for summer.
Quick Links
Comments about this article can be found below and discussion elsewhere on Geek Native accessed via the chat portal.