As the convention calendar shows, it's Elysium Con, the Weekend of Darkness, and Renegade Game Studios has not disappointed. They've announced for new Vampire: The Masquerade 5e products.
The Book of Nod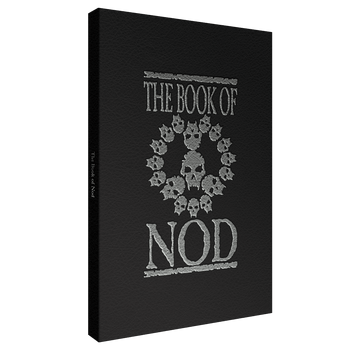 A poem, an in-game source and a legendary item from the World of Darkness, the Book of Nod is a faux-leatherbound book with silver foil, gilded pages, and a blood-red ribbon.
To understand the Book of Nod is to access the setting's mythology on the creation of vampires. This edition contains art from the original.
The first vampires remember their first nights, but do not speak of them. Others have heard tales, but know better than to believe them. The wise speak of The Book of Nod, but none have seen this fabled book of ancient lore.
You can pre-order The Book of Nod for $50.
The Book of Nod Deluxe Artifact Edition
This is different. If the faux-leather and gilded pages of the $50 version of The Book of Nod weren't fancy enough for you…
What about 14 "parchment" scrolls, Aristotle de Laurent's hand-written journal, a "stone" tablet and an assortment of notes, letters and old photographs?
Presented as an epic poem, the Book of Nod is an in-game resource, viewed as sacred by Noddist scholars and most vampire elders, especially of the Sabbat. Rather than a book of game mechanics, this book can be used as a prop and for lore, as it outlines the genesis of vampires with the mythology of Caine.
The photograph here is a mock-up. It may change.
There will only be 500 of these made, and you can pre-order one of them for $250.
Inquisition Sourcebook second edition
The World of Darkness' Church and the hidden State hunt the supernatural from the shadows.
In this guide, you'll find rules for the NPCs that see the Kindred as opponents and of the rising tide against them.
The second edition of the Inquisition Sourcebook for Vampire 5e also contains tools to expand your chronicles, eldritch Artifacts, new and dangerous antagonists and tactics that Kindred coteries could use to fight back.
The World of Darkness isn't a pleasant place, and this book comes with a mature reader warning.
The 140-page hardcover comes with a blood-red satin bookmark, is due out in October, and costs $45 at pre-order.
Vampire: The Masquerade dice set
Last but not least, and only because we don't have pictures for them yet… the Vampire: The Masquerade dice set.
These are expected out in October, will cost $20 and contain 13x black d10 and 5 red hunger d10. That's a lot of dice for $20 compared to some prices.
You can pre-order them anyway.
Quick Links
Got something helpful to add? Please let us know via the discussion area below.