Loot Tavern's Kickstarter for the 5e-powered Heliana's Guide to Monster Hunting asked for $15,000 to fund. At the time of writing, there are still 23 days to join in. It's going well. The campaign has raised more than $770,000 in pledges from over 7,000 backers.
So, let's take a look at the 5e supplement that could join the exclusive $1m RPG Kickstarter club. You can watch the pledge count increase on the pitch page.
Well, didn't that just ooze charisma!
Loot Tavern's main web presence is an Instagram page with 42K followers. Says something about the value of Instagram.
The Patreon has 800+ paid supporters who get access to the team's D&D creations and, clearly, people like it and the word has got out. The involvement of Hit Point Press, the team behind Humblewood, is likely a factor too.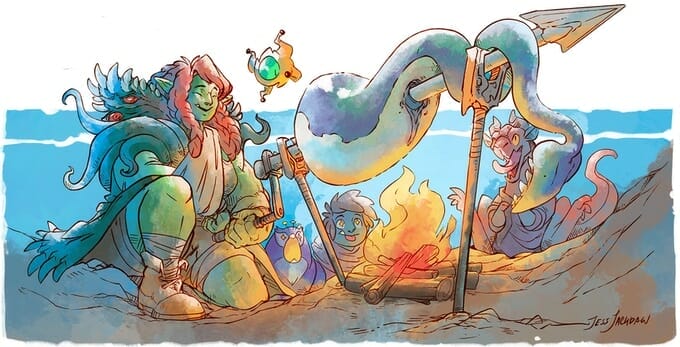 Inside Heliana's Guide to Monster Hunting, there will be 3 modular rule systems for tracking, harvesting and crafting with monsters in mind.
The book comes with 10 adventures, divided by levels and one new class in the shape of the Monster Tamer, plus 4 subclasses.
There are 50 new monsters, 150 new magic items and 200 random encounters, 10 friendly familiars and 40 new spells.
In total, the tome is expected to hit 300-pages.
A pledge of $25 will get the PDF with any applicable stretch goals. It's $50 to get the hardcover and PDF, but shipping is not included. This tier has passed 2,000 backers.
The Loot Tavern Map, Heliana's Handouts and exclusive stickers are added at $75, which has persuaded over 700 people to upgrade.
You can even go higher and not get the book in hardcover. At $90, you get the PDF while also picking up two pin packs and stickers. Loot Tavern make pretty things, and it's clear people want them.
The top tier weighs in at $250, and this deluxe box has shattered the 1,000 backer count. It shows that 5e's merch capabilities may well be more significant than imagined by Hasbro.
The expected delivery for the loot from Loot Tavern in January 2022, and I imagine it's a much bigger project than the team initially thought likely.
Let us know what you think in the comment section below.