Come to an end of an anime and wondering what to watch next?
Here in Irregular Reconnaissance, you'll find a gathering of spoiler-free mini-reviews. The column takes a look at five anime, some of which are brand new, some of which are a little older than that, and shares a few paragraphs of observations.
Importantly, each mini-review ends with a word or two of a summary and a link to where you can, geographic licensing deals allowing, watch the anime.
If you're a regular reader, then you'll already know whether these little bites of analysis agree with your views or not. If they don't, then flip the recommendations; trust your instinct, not mine.
Even better, if you've found an anime worth a mention or a warning, or if you've a different opinion to anything shared below, then let's hear it in the comments.
In this Irregular Reconnaissance;
Castlevania
Season 4, Episodes 1 to 3
Netflix has been straight with fans that this will be the last season of Castlevania, and I'm pleased. Season three set up more than it finished. I hope season four addresses those plot threads. Also, the show is ending on a high.
We've two different and dangerous vampire factions. Some are still loyal to Dracula, and some are looking to fill the power vacuum.
There's also those responsible for bringing armies of monsters into the world. In fact, the devil Forgemasters have become some of the most exciting and nuanced characters. They've more room to grow and aren't as firmly typecast as "monster hunters" as Trevor Belmont and Sypha Belnades are.
Caught in the middle of this, barely aware of what's about to them, are those two; Trevor and Sypha. The wildcard, once again, becomes Alucard. Hats off to the writing team.
Status: Good.
Where: Netflix
To Your Eternity
Episodes 2 to 5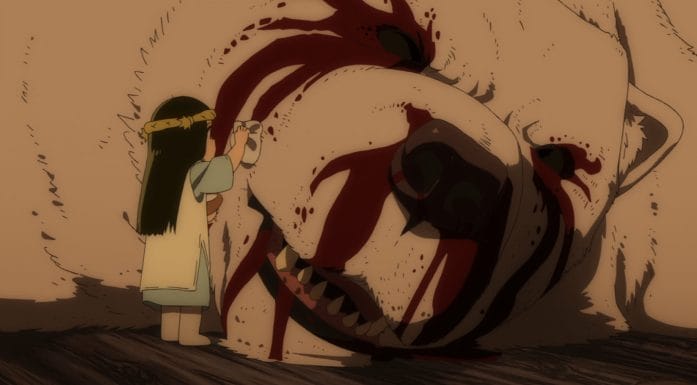 I did wonder how much of a story could be spun from a pebble. I think, a few episodes into To Your Eternity, that I'm confident of two things.
Firstly, it will be a good story, but perhaps not always a pleasant one.
Secondly, the pebble is the vehicle, and the story is about the people met as it travels.
It may well turn out that the journey is the important part, not the destination. I say that as there doesn't seem to be any hint of a plot arc yet, no endpoint, no climax to prepare for. However, the March story lasted several episodes, and I can happily sit through a few more of those.
The only slight niggle is the pebble's dumbness, that naive innocence that somehow does not preclude the ability to fight well. It often happens in anime and quickly gets tiring. Let's hope the pebble learns.
Status: Good.
Where: Crunchyroll
So I'm a Spider, So What?
Episodes 13 to 16
Crunchyroll needs a better system to alerting me when there are new episodes. I nearly missed the return of the oddly charismatic isekai in about a very dangerous little white spider. In fact, was there even a mid-season break or did I just get my schedule mixed up?
In an oversaturated genre, So I'm a Spider, So What? is a breath of fresh air and manages to find new angles on old lines.
You might think it impossible to support a monster spider who occasionally gets annoyed and wipes out an adventuring party of humans. It's not.
What these last few episodes do is weave in a bit of the world's mythology. There's a reason why a whole school class reincarnated in a fantasy world. The reason for that reason, though, remains a mystery.
Status: Good.
Where: Crunchyroll
No Guns Life
Episode 7 to 12
I'm glad there's a season two, as while season one is robust and entertaining, it hints at much better things. The paths we did not walk feel like they could have been better than the route we took.
No Guns Life drops us into a private detective noir, except our hero is a strange-looking cyborg-gun.
Is he a monster? That's the question the anime sets out to explore. As you'd expect, we discover that it's not how you look on the outside that matters, but what you do and what motivates you to do it. At no point does No Guns Life package this observation up for you. It certainly leans lecture you about it.
I liked the first season of No Guns Life for many of the characters, especially the Revolver and medic. The young man, the character whom the audience may be supposed to relate to, to view the strange world through, is the least interesting. Perhaps season two will do more with him.
Status: Average, nudging into good.
Where: Funimation
Attack on Titan
Episodes 67 to 75
Oh, Attack on Titan, what a rollercoaster of thrill and disappointment you've been. I thought this was it for a horrible while, but this is the end of part one of the final season. Part two is coming.
I don't want to give away the plot, even this far into the show, but the anime begins with monsters that look human doing gruesome things to innocent people, and then it pivots.
Many people will concede, I think, the segue stole a lot of momentum from the previously gripping ride. They changed studio. The plot took a considerable risk, and it seemed to be paying off.
Yes, now we're dealing with monsters that look human who are doing horrible things to innocent people. Just very differently. It also feels like the plot is taking a gamble again. We're invested in a particular set of characters at this point, and they're the ones who are important to us.
Status: Good.
Where: Crunchyroll
Seen anything terrible recently? Watched anything great? Share your discoveries in the comments below.