It's the final day of Warhammer Fest, and we have Games Workshop's mystery announcement. The wargame maker is releasing a new edition of Warhammer: Age of Sigmar.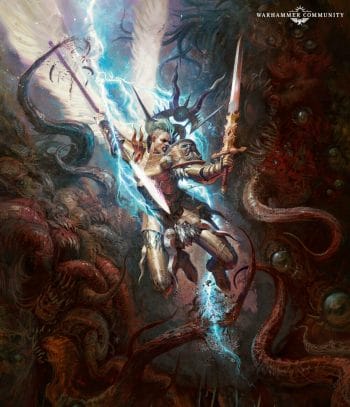 In a Warhammer Community announcement, Games Workshop said;
As well as more gorgeous artwork than you can shake an ensorcelled spear at, the new Warhammer Age of Sigmar features a ruleset that's been refined, revised, and retested to make your games better than ever. And a new narrative play system lets you forge your own legend of conquest, exploration, and martial might in the Mortal Realms.
It's more than just new rules too. The plotline of Age of Sigmar will advance. The wargame is set in a world that the god-king Sigmar is trying to save from the forces of Chaos and Death. It's a world of war.
Death, in particular, has swept the realm after the Necroquake swept across the realms and raised the dead. Now, though, the Soul Wars are over, and the curse of the Necroquake has been shattered.
Now, the forces of Order and reclaiming parts of the land, one bloody step after another. Sigmar has released one of his most potent warriors; one of the lords of Azyr, a beastslayer called Yndrasta.
Yndrasta carries with her the spear Thengavar and a portion of Sigmar's own power.
However, due to the Be'lakor the Stormcast Eternals are no longer sure to return for reforging. If they die, they might die. They might not be Eternal.
Quick Links
Start up a conversation in the comments below.