Woohoo, it's the 100th episode of Geek Native's Irregular Reconnaissance column. That's the celebrations over, although I must remember to mention it in the highlight show podcast.
If you're joining us for the first time, or if you're just pausing to read this, let's quickly go over how this all works. It's really straightforward.
In the article below, you'll find five quick and spoiler-free anime reviews. The plot is only discussed lightly to help avoid those spoilers, but you'll get a good idea whether the show is a good one or not. Of course, that's subjective, and if regular reading convinces you that you like the opposite of whatever ratings are dished out here, then that's still a filter system that works.
Filtering, after all, is the goal of these scout reports. Irregular Reconnaissance is designed to be a quick way to discover what's worth watching and what's best skipped.
Lastly, if you've been watching any anime recently which you think is worthy of a thumbs up or a thumbs down, please let us know in the comments below if you can avoid those spoilers.
Yasuke
Episodes 1 to 3
In a stroke, a violent sword stroke, Yasuke has become my favourite LeSean Thomas anime. By far.
The character of Yasuke may be based on a person from history, but this is fantasy. Or an alternative reality where magic exists and the dark army is equipped with Mechs and defeated Oda Nobunaga.
Yasuke once fought for the fallen warlord, and the show picks up as his early retirement is interrupted by destiny and dragged back into action.
Don't let the magic and mechs suggest that Yasuke is anything other than a bloody and gritty concept. Good people die, and the world isn't fair. Life in its entirety has not been kind to Yasuke. It's a life where little victories matter.
The structure of the show, so far, has been around little victories too. Within the first three episodes, we've had a mini-arc of a plot, a villain's menace introduced, and a resolution found. In contrast to, say, Cannon Busters, this precision and pacing is welcome.
I'm looking forward to the remaining episodes.
Status: Good.
Where: Netflix
Seven Knights Revolution: Hero Successor
Episode 2 to 5
I was so looking forward to this show based on its synopsis alone. The characters are heroes passed down in spirit, through the ages, keeping the world stable… until they meet another who history seems to have forgotten. Are they on the same side? It's enough to remind you of the Mahabharata.
Our mystery hero is quickly named, though. The forgotten hero is Nemo.
That's an odd name for an anime. I was reminded of Captain Nemo, who features in two Jules Verne stories; Twenty Thousand Leagues Under the Seas and The Mysterious Island. It's said that Nemo is named after an inscription above a gate in Edinburgh castle; "Nemo me impune lacessit" or "No one "cuts" (attacks) me with impunity".
All this potential. Sadly, the first few episodes set up a standard magic school and make friends scenario. A lightweight romance with a fantasy setting.
Only episode 5 shows some hope, some darkness and complexity. I'm going to keep watching for now.
Status: Disappointingly average.
Where: Crunchyroll
Joran The Princess of Snow and Blood
Episodes 2 to 5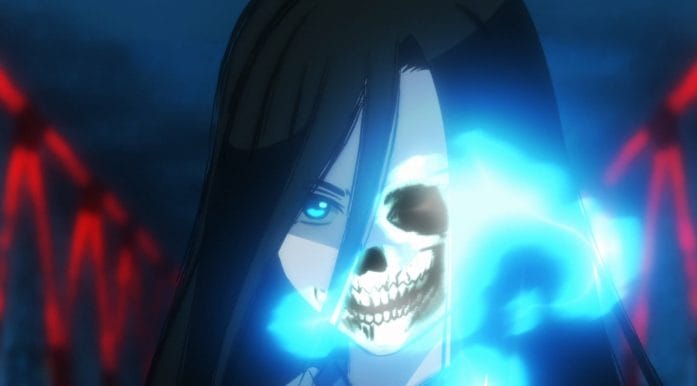 In my review for episode one, I scolded myself for not paying enough attention to Joran The Princess of Snow and Blood appreciate it fully. I was right. I was wrong to have watched it while so sleepy.
The anime is about government enforcers in a magical alternative reality Japan taking on a sinister rebel espionage group. In that scenario, just who is goodie? Who is the baddie? Can it really be as simple as that?
In truth, there's immediately a complex web of deception and treachery. Blink, and you'll miss the reveal that someone is a double agent, and that'll taint the rest of the show for you. In this world of dangerous people operating from the shadows, blink, and you die.
I'm upgrading my appraisal of Joran The Princess of Snow and Blood from average to good, which is a rarity.
Status: Good.
Where: Crunchyroll
Zombie Land Saga
Season 2 (Revenge), Episodes 1 to 4
Zombie Land Saga had one of the best opening scenes I can remember. It's worth watching episode 1 just for it. The rival scene, by the way, is the fight in Black Fox.
It's a show about a group of young women who want to become idols and do so by convincing the local metal scene (death metal, they say) to dance along to their high energy pop.
The catch? The entire group are zombies. Zombies in make-up, so the audience is unaware that they're actually people pulled from all walks of life and time.
Zombie Land Saga Revenge is the sequel without the dramatic opening but with a dramatic reset. So far, though, it still feels as if we're climbing back up to the "brain dead" fun on the first. It's getting there, leaving us to hope it can get there and stay there.
Status: Average
Where: Crunchyroll
The World Ends With You
Episodes 1 to 3
There seemed to be lots of chatter around this anime before it's real. In part, that's due to the show being based on an old battler game. It's also due to real-life drama around the drummer in the band who perform the opening tune. At least, they used to. The opening theme was swapped out because of his fall from grace.
There's no mistaking this anime is based on a computer game. It starts with a spiky blonde-haired guy getting to his feet, having no memory and almost immediately whisked into a battle. This hero explores the world, learning as he goes, teaching us what's going on as if it was a computer game tutorial.
Our friendly players go on missions, sent by the Reapers, and must defeat the Noise to progress. These missions seem to have some sort of lesson to them as well about being kind to people. It feels like a Saturday morning show for kids.
Status: Average.
Where: Funimation
Seen anything terrible recently? Watched anything great? Share your discoveries in the comments below.