Handiwork Games have released a set of phat Beowulf d20, which due to pressure from fans, went on sale early, can be bought from the site and are already selling out. I see barely 50 left in stock already.
Beowulf is a 5e-based game modified for duet play (one DM; one player) and has three alignments; The Old Ways, The Church or Unaligned. The dice focus on those themes. Rolls with advantage are made with an alignment dice, in addition to the main hero dice.
D20s usually are 19mm; these are 31mm.
Handiwork Games also have some Beowulf pin-badges. You can't buy the pins separately, and they're different to the ones bundled with that Q-Workshop dice set. However, Geek Native Patreons (or those who become a Patreon before the 3rd of May) will get one in the post.
Become a Patron!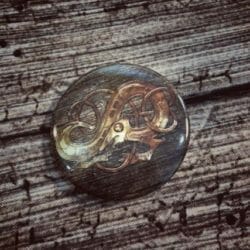 Please note, these pin-badges are limited in number. There's a tiny chance more Patreons sign-up than Geek Native has badges. Even if I go begging back to Handiwork Games, they might not have any spare. It's a good problem to have, and we'll try and work something out.
There is a good selection of Beowulf Merch available from Handiwork, including All Rolled Up gear and inspiration tokens.
Quick Links
Update: An earlier version of this post linked the pin-badge to the limited dice. In fact, this pin-badge isn't possible to buy at all. It's the one shown and not for retail.
Join the site discussions by leaving a comment below.