Runehammer Games' Index Card RPG (aka ICRPG) is inspired by computer games to the extent that it uses hearts for health and bananas for movement. The idea is you can roll out as many game conversions as you want while keeping the vibe of the game.
The system itself is a d20 one, with straightforward chargen, quick combat and timers. It even comes complete with its solution to miniatures, but you do need to provide your own bananas, should you get peckish.
A Bundle of Holding deal is live until March 22 and can be found on the discount site until then.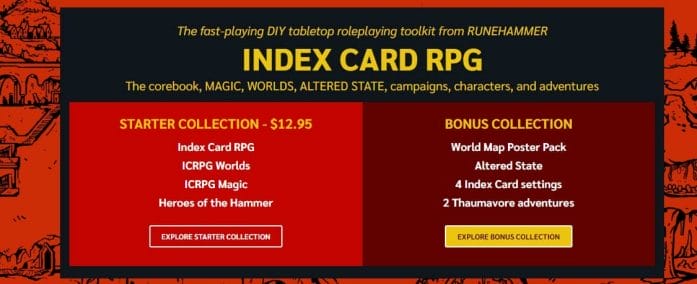 Starter Collection – $12.95
The Starter Collection, the first of the customary two tiers in the bundle, costs $12.95. In exchange, you'll get $54.40 worth of DRM free PDF downloads.
Index Card RPG
ICRPG Worlds
ICRPG Magic
Heroes of the Hammer
Bonus Collection
The Bonus Collection cost changes in response to the amount people contribute to the bundle, but it always delivers $58 worth of downloads. At the time of writing, the Bonus Collection costs $25.05.
World Map Poster Pack
Altered State
4 Index Card settings
2 Thaumavore adventures
A portion of the money raised by this deal goes to the charity Direct Relief.
Quick Links
Join (or start) the healthy debate. Share your observations below.