The phrase "Forever GM" describes one kind friend who always ends up running tabletop games night, never getting to play and always weaving the story. There's nothing wrong with that approach, it is often fun being the GM, but it doesn't have to be that way.
Tom Scutt DM Yourself is a bestseller and, over 64-pages, tells you how to take a pre-written adventure and enjoy it yourself. Scutt has launched a new Kickstarter for DM Yourselves, a companion piece that expands the rules to cover whole groups. No more Forever GMs. It's smashed funding goal, and you can join in on the project page.
It's not said that I can see whether you absolutely need a copy of DM Yourself to use these rules, but it looks likely.
DM Yourselves is described as a companion piece that expands the rules of DM Yourself. Thankfully, you can get the original book from this Kickstarter if you need it.
The goal of DM Yourself was to play as close to a pre-written adventure as possible without messing around with complex conversions, ways to deal with spoilers and yet make it all possible as a solo character.
Lastly, DMing yourself is hard, and so there are a small set of rules to stop rules bending in your favour.
DM Yourselves takes these ideas and techniques further, giving new ways to bring your solo roleplaying fully to life, whether this is with D&D 5e or another RPG system, played out in full detail or just in casual story mode, on your own or with a friend (when neither of you wants to DM).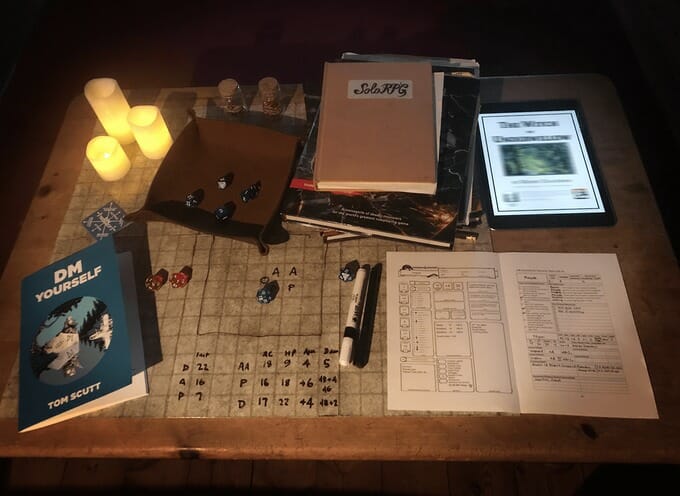 It takes just a pledge of £4 to qualify for a PDF copy of DM Yourselves as a reward. If you need the original ruleset, then you only need to step up to £7.
The £8 tier is more popular, with over 100 backers getting a print copy and a PDF of DM Yourselves.
Giving that tier a run for its money is the £15 option in which you get both books in print and digital.
No matter which pledge level you go for, the books are expected to be ready by July 2021.
Geek Native welcomes thoughtful comments from our favourite readers. Join in below.