🐙Sponsored Post paid for by Geek Native. We may earn a commission on sales.
It feels like a busy time over at Humble Bundle. The programming books and other techie discounts are worth checking out and huge ebook bundles worth getting a heads up on.
So, here's the heads up. The starting tier is the usual less than a buck (73p), and if you go all the way to the top of the pile, you'll end up with over $900 worth of multi-format ebooks to download for less than twenty quid.
You can grab the deal for the next three weeks.
Pay £0.73 tier
Aftermath Vol. 1-3
Armies Vol. 1-3
Clockwerx Vol. 1-2
Foligatto
Off-World Blues Vol. 1-3
Orion's Outcasts Vol. 1-2
Retina Vol. 1-3
Pay £7.30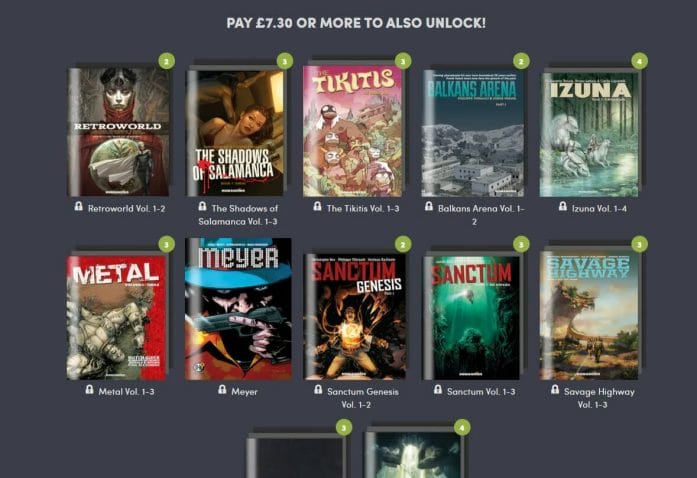 Retroworld Vol. 1-2
The Shadows of Salamanca Vol. 1-3
The Tikitis Vol. 1-3
Balkans Arena Vol. 1-2
Izuna Vol. 1-4
Metal Vol. 1-3
Meyer
Sanctum Genesis Vol. 1-2
Sanctum Vol. 1-3
Savage Highway Vol. 1-3
Shamanism Vol. 1-3
The Book of Chaos Vol. 1-4
Pay £13.14 tier
Thousand Faces Vol. 1-5
Wings of Light Vol. 1-2
Pandemonium Vol. 1-3
Redhand – Twilight of the Gods Vol. 1-3
Angel Claws
Before The Incal Vol. 1-6
Carthago Vol. 6-10
Dark Rage Vol. 1-3
Deviant Virtues
Legend of the Scarlet Blades Vol. 1-4
Olympus Vol. 1-2
Pandora's Eyes Black and white
Robert Silverberg's COLONIES Vol. 1-2
Space Bastards Issue 1
Metal Hurlant: Selected Works
The Fourth Power Vol. 1-4
The Metabaron Vol. 1-6
Pay £18.26
As Humble disclose; some of these books have been offered before.
Exo Vol. 1-3
Muse Vol. 1-2
Omni Issues 1-4
Simak Vol. 1-2
The Swords of Glass Vol. 1-4
Carthago Vol. 1-5
I Am Legion Vol. 1-3
The Incal Vol. 1-6
The Metabarons Vol. 1-8
Eros Gone Wild Vol. 1-4
Madwoman of the Sacred Heart Vol. 1-3
Metabarons Genesis – Castaka Vol. 1-2
Milo Manara's Gullivera
Milo Manara's The Golden Ass
Pandora's Eyes
Weapons of the Metabaron
Quick Links
Moebius & More presented by Humanoids.
Rate any comments below thumbs up or thumbs down if you find any particularly helpful or agreeable.