Goodman Games' The Dungeon Alphabet is now on Fantasy Grounds.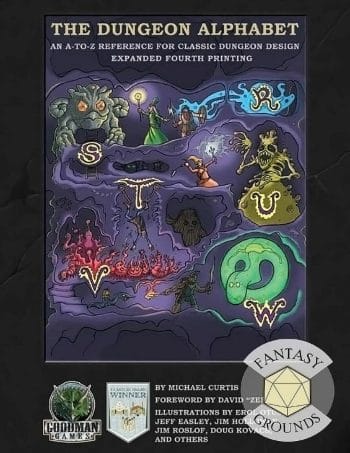 Dungeon Alphabet is a system-neutral supplement for GMS that help them design and build dungeons.
As the name implies, Dungeon Alphabet's dungeon walkthrough does one letter at a time. A is for Altar, B for Books, and C for Caves and so it goes.
The illustrated guide contains work from the likes of Russ Nicholson, Jeff Easley, Jim Holloway, Peter Mullen, Michael Wilson, and Brad McDevitt.
Goodman Games described the release as "… putting things in order over at Fantasy Grounds", but there's no suggestion of any tension between the two.
It's just that the publisher is taking the time to increase what it offers on the popular virtual tabletop and, of course, there's the sense of order and logistics about starting the project with an alphabetical guide.
Quick Links
Use the comment box below to leave a helpful comment and earn some geek cred!