Goodman Games' next conference is Spawn of Cyclops Con.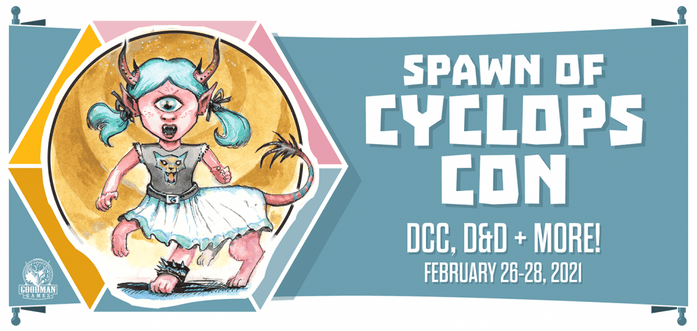 The online convention will use New York's timezone (UTC -5) and cover more than just Dungeon Crawl Classics. All editions of D&D are on the table along with Mutant Crawl Classics and other Goodman Games stalwarts.
The schedule of dates is described as tentative but currently looks like this;
Event submission opens: January 2
Event schedule posted: January 22
Badge sales open: January 23
Event pre-reg for volunteers and judges: January 25
Event registration opens to all: January 29
Last day for ticket refunds: February 25
Con Start: February 26
Goodman Games are using Tabletop.Events manage bookings.
You can find Spawn of Cyclops Con and other tabletop RPG conventions in Geek Native's convention calendar.
Quick Links
Scroll down to the comment box below to join in the discussion.