No fooling, but one of my all-time favourite songs is Dio's Holy Diver.
It's cheese metal at its best. Why do I dare to call it cheese metal? Is it the howling wolves? Is it the rhymes? Yes, yes and all the things.
Does it work amazingly well, yes?
The single Holy Diver from the album Holy Diver is now 30 years old and part of a mystery. Ronnie James Dio has never explained the album art.
Why is there a priest in the sea? What is that thing with the chain? Is this modern era… given the priest's glasses? Just. What. Is. Going. On?
We'll find out soon enough. Z2 will release the official Holy Diver graphic novel in 2021.
Steve Niles (Criminal Macabre, 30 Days of Night, October Faction) will team with Scott Hampton (Gotham County Line) on a 120-page graphic novel.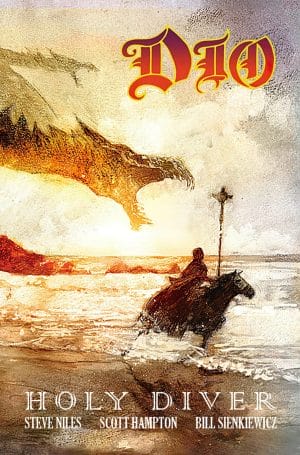 Wendy Dio-Padavona told press;
Steve Niles tells the story behind the Album cover 'Holy Diver,' a story about how you can't judge a picture by the way it appears, which is what Ronnie wrote many times in his songs; that you have to see inside the person and not judge them by the way they look or by what they wear"
Together with Scott Hampton's amazing artwork they tell the story of 'Holy Diver,'and I know Ronnie would have given his stamp of approval on this great graphic novel."
Niles himself is to the point, saying;
I'm so excited to be writing this book. I hope I do Ronnie James Dio justice."
You can pre-order now at Z2 Comics but, oh boy, this is not a newsstand staple-bound glossy. The deluxe edition will set you back $100. The standard, though, is a more affordable $20.
Comment and share your thoughts on this article in the section below.